Spring 2018 Honors List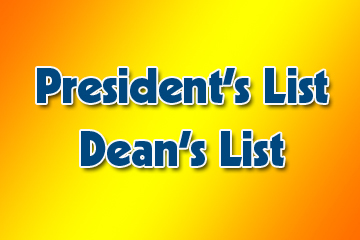 Trinity Valley Community College announces the honors list recipients for the Spring 2018 semester. Recipients are listed alphabetically by hometown:
PRESIDENT'S LIST
ALBA: Jason Angler, Yoselin Rios.
ARLINGTON: Peytton A. Pickett.
ATHENS: Ideal Ademaj, Samantha Banuelos, Celia Banuelos-Martin, Trevor J. Baumgartner, Caitlin E. Bomer, William P. Boyd, Sheigh L. Cassidy, Gianella A. Castaneda, Madeline L. Clay, Landon E. Criner, Ryan J. Donet, Stephen C. Flood, Diana P. Giordani, Emelia M. Guerra, Natalie M. Harrell, Tamya N. Hubbard, Daimu Iwata, Breonna J. Jackson, Jarod C. Jenkins, Lexie C. Johnson, Tricia R. Johnson, Jeannie K. Keith, Adrianne L. Kinabrew, Jackie R. Kramer, Yuvia K. Leon, Amy N. Lopez, Allison J. Martinez, Jasmine N. Martinez, Kathryn A. Martinez, Jessica D. McCuin, Licsi G. Mejia, Hiroyuki Mishima, Maria L. Nicolau, Katelynn M. Owen, Jesse J. Petri, Sarah A. Pineda, Chandler F. Rowan, Mayuko Shinohara, Brianna N. Shultz, Holly L. Shumate, Miguel S. Tabuso, Benjamin R. Vandercolft, Nolan D. Whitley.
BASTROP: Allisan M. Butler.
BEN WHEELER: Kailey M. Dent.
BROWNSBORO: Ashton L. Trammell.
BURLESON: Jessica M. Janusch.
CANTON: Victoria F. Ashley, Benjamin A. Hayes, Michael P. Heard, Jonathan S. Huddle, Brandon T. Jeanes, Shelby B. King, Grant T. Lein, Nancy M. Lopez, Courtney L. Roberts, Bryce A. Satterfield, Tessala R. Tucker, Misty D. Wallace.
CARROLLTON: Kierstin A. Rosipal.
CHANDLER: Lindsey M. Maronge, Heather R. Price, Gracie L. Taylor.
CRANDALL: Elizabeth C. Dodd, Chelsi M. Simmons, Christina L. Thompson.
CROCKETT: Marquita T. Beasley, Daniela A. Quintero, Vanessa Sandoval.
DALLAS: Beatriz A. Nunez.
EDGEWOOD: Quinton R. Locke.
ELKHART: Sarah C. Adair, Cory M. Stevens, Devon M. Stevens, Allison R. Thomas.
EUSTACE: Gloria G. Hudson, Megan N. Turner, Mary J. Usmiller, Delaney M. Worth.
FORNEY: Tanner J. Blakely, Kailea M. Floyd, Benjamin K. Gathright, Kameron Hampton, Gabriela Nunez, Alexandria N. Villanueva, Ryan C. Wagle.
FRANKSTON: Elyssa I. Elton.
GRAPELAND: Edie K. Meinardus, Mitchell F. Woody.
GUN BARREL CITY: Zachary A. Franklin, Timothy M. Smith.
HEARTLAND: Cecilia J. Becerra.
HOUSTON: Mikayla N. Delossantos.
KAUFMAN: Lauren A. Blakely, Cassi T. Carter, Khristina M. Edwards, Christine E. Fernandez, Rodrigo D. Rodriguez, Cathleen R. Tijerina, Erica A. Vanderslice, James O. Wallace.
KEMP: Richard E. Bacon, William T. Bell, Tammy D. Cheshier, Sidney M. Gomez-Torres, Taylor L. Herring, Andrea M. Mullins, Sierra D. Weber, Joel A. Zamora.
KERENS: Garrett D. Berry.
LARUE: Jonathan A. Hairgrove, Lesley A. Young.
LUFKIN: Javante M. Ellington, Emily R. Smith.
MABANK: Brooke M. Clay, Meagan N. Fillmore, Bailey C. George, Brianna S. Herring-Jenkins, Justin E. Legel, Steven J. Letlow, Kenneth D. McAfee, Jessica L. Miller, Jillianne B. Odom, Christopher T. Rich, Sheryl A. Stephens, Shawna D. Walker.
MALAKOFF: Juan J. Garcia, Veronica B. Gilbert, Alisha L. Pierce, Veronica L. Wheat, Megan A. Yoder.
MOUNT PLEASANT: Thomas A. Spann.
MURCHISON: Madelynn N. Bragg, Christine A. Middleton.
OAKWOOD: Danika Anaya.
PALESTINE: Serena L. Coker, Freda A. Deamesi, Gus A. Forster, Sylvia L. Garcia, Jesus M. Garcia-Castillo, Vanessa N. Gyabaah, Caleb T. Harris, Shamika D. Jackson, Scott A. Keon, Donald H. McCoy, Christopher M. Nichols, Misty D. Phillips, Alexandra J. Rocha, Jennifer L. Sims, Katherine M. Walker, Lexie A. Witte.
QUINLAN: Silvia Olvera, Stephanie E. Ortega, Tommy G. Page.
ROCKWALL: Ariana M. Campos.
ROSSER: Robin A. Woodruff.
ROWLETT: Shawn M. Freehling.
SAGINAW: Julianna L. Lake.
SCURRY: Kaitland B. Duke, Dakota R. Jones, Angel S. Moore, Kendyl R. Norris, Kayleigh N. Page.
SEVEN POINTS: Edgar A. Padilla, Sonya E. Stewart, Jerry T. Tucker.
SILSBEE: Jodee L. Crane.
STATESVILLE: Amber L. Pickens.
SUGAR LAND: Alexandra C. Holm, Hailey C. Curl.
TENNESSEE COLONY: Tamber A. Gilpin.
TERRELL: Diego A. Armendariz, Kailey M. Bolluyt, Robert G. Butler, Brook M. Carlton, Aliana Y. El-Sibai, Travis M. Fairley, Matthew A. Fields, Ilan L. Gallegos, Manuel A. Garcia, Guilleremo J. Gudino, Jan G. Hood, Megan C. Horton, Breonna R. Larpenteur, Allye S. Mannon, Sabrina Reyes, Karina P. Salazar, Markel R. Savala, Blayne W. Townsend, Breeann R. Wallace, Kevin G. Williams.
TRINIDAD: Holly G. Johnston, Kayle M. Reneau.
TYLER: Destiny G. Bell.
VAN: Morgan L. Maier.
WEATHERFORD: Michelle E. Miller.
WEST MONROE, LA: Duke M. McGraw.
WHITEHOUSE: Mckenzie L. Baskin.
WICHITA FALLS: Audry L. Lopez.
WILLS POINT: Carleen Cranford.
DEAN'S LIST
ALBUQUERQUE: Joren S. Dickey.
ATHENS: Samantha K. Acker, Hunter W. Arnette, Melissa J. Boister, Tye M. Bratton, Kelsey N. Byrd, Pedro A. Cardenas, Jennifer Castillo, Jason L. Cogan, Kaitlin E. Costlow, Brittany L. Couch, Hunter C. Davis, Baylee A. DeShazo, Chandler L. Earley, Jaime J. Echenigue, Michael A. Fernandez, Preston T. Furr, Bianca Y. Garcia, Maria E. Garcia, Jesse E. Giles, Hannah M. Hummell, Andres F. Ibarguen-Andrew, Robinson E. Idehen, Gennifer C. Johnson, Stephanie D. Jones, Robert A. Lenington, Brianna Y. Leon, Adam C. Logan, Yildon A. Mendoza-Jaimes, Kiara A. Miles, Stephanie M. Moreno, Marshalla P. Padgett, Caleb M. Parker, Nicole Petty, Miguel R. Ramirez, Cody L. Rayburn, Sarah A. Rhodes, Jose A. Romero, Valeria Sanchez, Leopold Schaller, Fatima G. Segura, Kara A. Smith, Jared B. Snyder, Heather L. Thornton, Patrick L. Vandercolff, Juliana Vaz, David P. Viator, Felicity E. Walker, Raechelle L. Walker, Ana-Paula A. Zandona, Eduardo M. Zea.
BASTROP: Kayla N. Roper.
BROWNSBORO: Justin W. Little, Tanya J. Slade.
BUFFALO: Ashlyn J. Hughes, Courtney R. Nichols.
CANTON: David A. Bible, Kayleigh D. Contreras, Jennifer Hartline, Jacob A. Johnson, Travis D. Perkins.
CEDAR HILL: Cyrik D. Ransom.
CENTERVILLE: Jeffrey A. Cornett.
CHANDLER: Codi T. Arndt.
COLLEGE STATION: Tony D. Williams.
COMBINE: Dalton E. Bramhall, Chase Evans, Hunter J. Ryan.
CONROE: Paige E. Brown.
CRANDALL: Megan D. Holland, Lizabeth D. Nolan, Tia R. Trevino.
DALLAS: Aarnyshea L. Davis, Brianna N. Palos, Destiny T. Williams.
DENISON: Stormie K. Smith.
DENTON: Colton W. Atkinson, Cutter H. Leftwich.
EDGEWOOD: Courtney A. Allin, Masen B. Seale, Trent A. Smith.
EL PASO: Annelise Corona.
ELKHART: Dominick R. Blythe, Brooke M. Fritz, Sarah M. Neal, Benjamin L. Sharp, Adam S. Thompson.
EMORY: Katie D. Plemmons.
ERIE: Christian S. Desouza.
EUSTACE: Nicholas A. Adams, Sandra A. Cooper, Weslyn D. Davis, Sheri C. Larkin, Kyla Morris, Marcus L. Netherland, Tanita S. Watson.
FAIRFIELD: Chloe G. Wilson, Olivia R. Wilson.
FALL RIVER, MA: Terrell Cabral.
FORNEY: Hannah K. Brazel, Britney H. Bryan, Hayden W. Burke, Jake R. Conner, Hannah D. Davis, Rakobi J. Davis, Nathaniel D. Depappe, Glenda C. Faircloth, Robert A. Fitzgerald, Charles W. Hamilton, Katelyn N. Hammack, Kayla N. Kitchen, Keri S. Lyle, Demi A. Pyle, Abygail D. Quintanilla, Kennedy R. Rowland, Madison A. Wyatt.
FORT WORTH: Morgan M. Ham.
FRANKSTON: Timothy C. Conrad, Samantha S. Marta, Alicen R. Nolen.
GEORGETOWN: Mckenna C. Kahanek, Hayley M. Vaughn.
GRANBURY: Cody R. Welch.
GUN BARREL CITY: David R. Chitty, Amir Kunwar-Ramtel, Jared M. Lenz, Breann E. Waymire.
HEARTLAND: Alexis Arredondo, Eric F. Ngambia-Tchetmi, Christopher L. Nunnally, Celeste B. Wright.
HEWITT: Cynthia A. Gonzales.
HOUSTON: Kolby J. Cluse, Julia A. Dasilva, Karina Gutierrez, Hannah D. Scullion, Ty A. Taylor.
HUNTSVILLE: Marlen J. Spivey.
IRVING: Christina M. Jarvis.
JASPER: Erin M. Wooten.
KAUFMAN: Skyler N. Baker, Ulysses F. Canales, Brooke E. Coker, Maria E. Cruz, Erica N. Easter, Kellie J. Freeman, Alexis I. Guerrero, Makenzie L. Kersh, Ashley N. Kunzler, Porfirio Lopez, Jose P. Lozano, Stephen M. Mendoza, Amya M. Miles, Katlyn B. Reschke, Tyler D. Starnes, Shalisa L. Tilson, Taylor B. Whiteley, Austin R. Wilson.
KEMP: Karina Aguilar, Barrett K. Chambers, Sammie J. Griffin, Allison C. Kent, Ariana M. McDonald, Amber A. Millett, Laci R. Odom, Mercedes Zapien.
LAKE PLACID, FL: Cealie L. McIntyre.
LARUE: Jacob C. Dunn, Kayla M. Rife, Zachary L. Solis.
MABANK: Tyler S. Hartnett, Chauncey D. Henderson, Rosalia Hernandez, Callie E. Kincaid, Jamie L. Knight, Shawn F. Manley, Daniel R. Matijosaitis, Shane A. Renberg, Beau W. Smith, Sierra L. Strickland.
MALAKOFF: Patricia Garcia, Greyson H. Givens, Angela M. Jackson, Maci B. Mattingly, Titus J. McCloud, Nicholas S. McKenzie, Julie E. Rogers, Cliffton E. Rudman, Bayleigh C. White.
MCKINNEY: Courtney E. Lewis.
MESQUITE: Amanda L. Devenport, Logan K. Norris, Tyler J. Norris.
MONTALBA: Kimberly R. Foerster, Sheyenne A. Decapua.
MOUNT ENTERPRISE: Andre D. Phillips.
OAKWOOD: Candace L. McGuire.
PALESTINE: Bunmi B. Adewumi, Raven C. Alberto, Paige E. Bain, Giovanni J. Cerrato, Raygan R. Choat, Jonathan J. Cruz, Chelsey G. Deyon, Luke H. Harris, William L. Henderson, Caden T. Lafontaine, Sebastian Landaverde, Donald J. Lavergne, Rachael A. Little, Sandra C. Martinez, Victoria M. Meadows, Yvonne M. Mfonyo, Sintia C. Montes, Omalara T. Obi, Anthony J. Okrongly, April D. Price, Jessica L. Ramirez, Emma L. Ricard, Maria G. Sanchez, Rachael T. Shokabi, Diana S. Soto-Ramirez, Henrietta I. Uyigue, Patrick A. Willett.
QUINLAN: Amber N. Krings.
RICHARDSON: Diana A. Ruiz.
RICHMOND: Isaiah T. Brown.
RIVERSIDE, CA: Jonathan K. Jackson.
ROCKWALL: Alyson L. Smith.
SAGINAW: Hannah M. Peacock.
SAN ANTONIO: Kimberly A. Abundis, Brianna N. Kinnard.
SCURRY: Jonathan K. Conlon, Angela C. Hernandez, Allegria D. Lindsey, Lara N. Maag.
SOUTH HOUSTON: Perla M. Garcia.
SOUTHERN: Zacary C. Montgomery.
SPRING: Brannon S. Morrison.
TENNESSEE COLONY: Kimberly D. Hughes.
TERRELL: Evelin N. Ayon, Andrew G. Bankston, Anthony Barrera, Caitlynn B. Bishop, Brian C. Black, Madison Black, Quashayla R. Cobb, Krysta J. Conner, Michele L. Cox, Crystal D. Crane, Caitlyn R. Cunningham, Alexandrea G. Gobert, Marcos J. Gonzalez, Loren N. Harger, James S. Harrison, Claudia B. Herrera, Nathan R. Ihle, Angela D. Jones, Chance C. Knapp, Jenna N. Lozano, Amanda K. Marez, Natosha M. Nickerson, Nichole A. Ocheltree, Jessica A. Palma, Kaitlyn D. Paris, Kayli B. Patterson, Jacqueline Pina, Tammy L. Shafer, Devin M. Simmons, Kendrick G. Taracena, Randi D. Trail, Abigail G. Vega.
THE COLONY: Kendrick T. Johnson.
THE WOODLANDS: Allicia R. Bauersfeld.
TYLER: Sammantha S. Megaw.
VANCOUVER, WA: Michael P. Androsov.
WICHITA FALLS: Mercedes N. Brooks.
WILLS POINT: Erika L. Chavarria-Rios, Kaitlyn M. Davis, Carson L. Duffer, Meredith C. Edwards, Sabrina L. Redding, Jeffrey S. Todoroff.
Students must be enrolled in at least 12 semester hours, make no failing grades and secure an average of at least 4.0 grade points for the semester to be included on the President's List, and at least 3.5 grade points to be included on the Dean's List.