110 New Health Science Graduates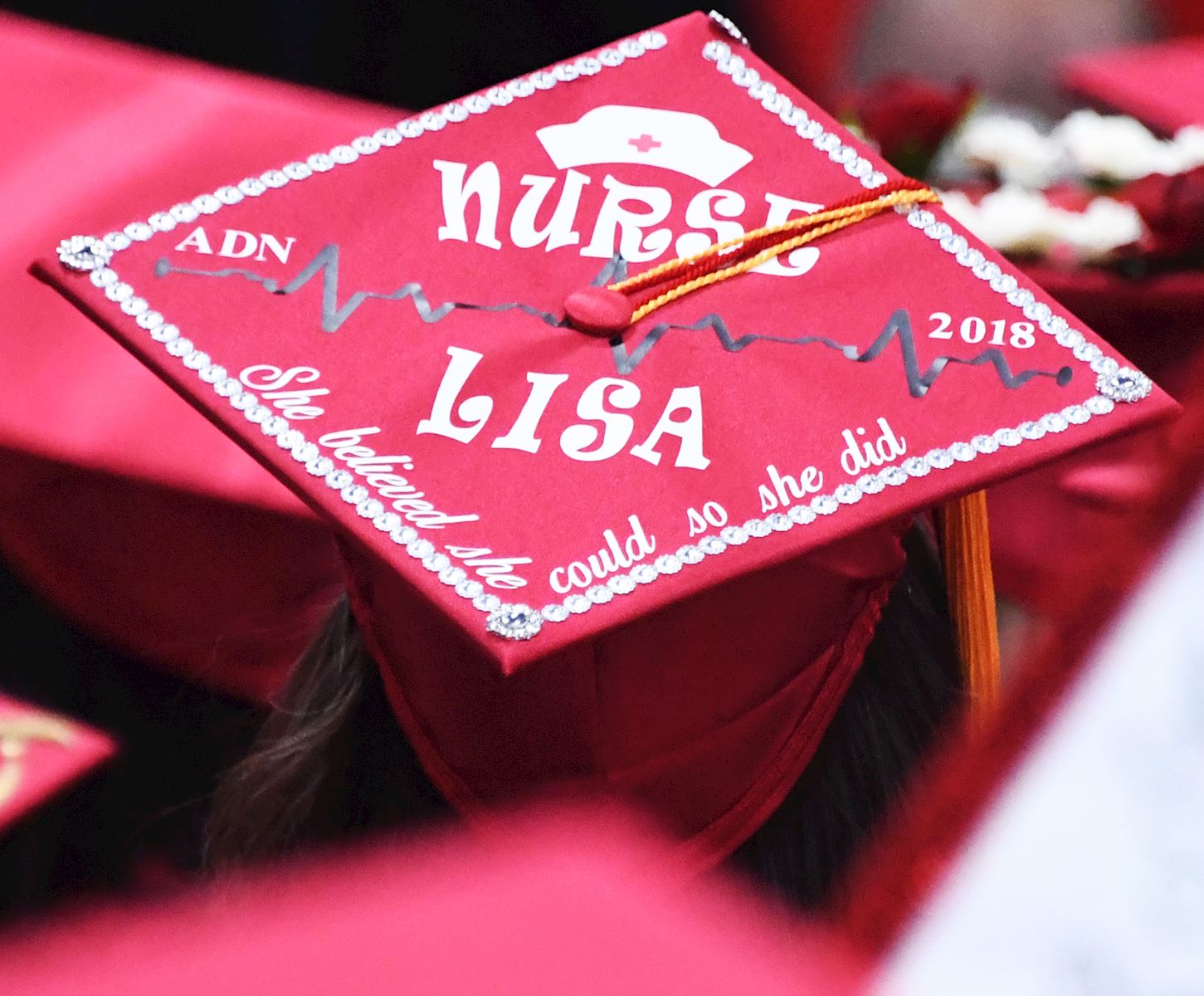 Trinity Valley Community College Health Science Center held graduation ceremonies Wednesday, May 10. Graduates with an Associate Degree in Nursing were Madeline L. Adam, Omolara D. Alamudun, Parris J. Allen-Meadors, Ashley M. Ashton, Melissa K. Attaway, Delia D. Avila, Gloria D'An Avila, Tiffany R. Bankston, Rhonda Beth Bowling, Kaylee Mae Bristow, Kaylyn A. Bundy, Chiara A. Caldwell, Crystal Campos, Melissa Deann Clark, Candace R. Colson, Chelsea A. Cook, Michelle N. Cook, Samantha J. Criswell, Kristin Alexandra Curnutt, Brandi N. Dlabaj, Bree A. Driver, Paige Elllington, Holly E. Farmer, Kimberly Dian Foster, Sonya Hersom Fullmer, Kaela K. Garcia, Jennifer L. Gheen, Miranda H. Gore, Michelle R. Griesbach, Amber Grisham, Jerold R. Harper, Heather R. Harris, Lili Ana Hernandez, Nataliee G. Hernandez, Kimberly A. Herrin, Kiali Robyn Herrington, Robin L, Houston, Kendall J. Hutson, Mona K. Jackson, Mikka D. Jenkins, Britni Michelle Joyce, Michelle N. Karanja, Jasmine Andrewnette Kennedy. Marilyn G. Lance, Julie A. Lane, Kelly Nicole Lantrip, Celestine L. Lesigha, Wyntr R. Liles, Amanda J. Lloyd, Christie L. Logan, Richard D. Lozano, Anthony Obinna Madu, Amber N. Martin, Veronica K. Matara, Annie Mayani, Gracie A. Mendez, Karina I. Montes, Lindsey Michelle Mosser, Alice Ndirangu, Solape R. Nelson, Stellah Bonareri Nyakina, Nkiruka P. Okeke, Josephine U. Otah, Alison R. Ottaberry, Marisa R. Penney, Rachel Nicole Perry, Stefani M. Pinkard, Barbie A. Reed, Lisa M. Rodriguez, Alana S. Rogers, Diana L. Ruiz, Shifali Samson, Lawanda Danielle Shed, Jessica A. Sheets, Kourtney R. Smith, Shirley A. Speelman, Melissa D. Spoon, Kristi N. Steele, Lisa Marie Sutherlin, Morgan C. Taylor, Amanda K. Tennison, Norma J. Thomas, Bobbie M. Thompson, Brittany Ryane Thompson, Jannery Valdelamar, Hunter L. Westmoreland, Alissa Danielle Williams, Elizabeth L. Wilson, Rebecca E. Wilson, Meredith M. Yoakum and Yamilex Zuniga.
Recipients of the Associate of Applied Science in Surgical Technology degree were Ulysses F. Canales, Krista J. Conner, Michele L. Cox, Amanda L. Davenport, Angela D. Jones, Jenna Nicole Lozano, Amber A. Millett, Jenell D. Newsome, Devin M. Simmons, ShaLisa L. Tilson and Robin A. Woodruff.
Certificates of Completion in Patient Care Technology were presented to Diana P. Acevedo, Cynthia Chyanne Franklin, Megan M. Gates, Shelby B. King, Breonna L. Larpenteur, Grace O. Moreno, Shawna D. Walker and Misty D. Wallace.