TVCC Foundation Offers Record Number, Amount in Scholarships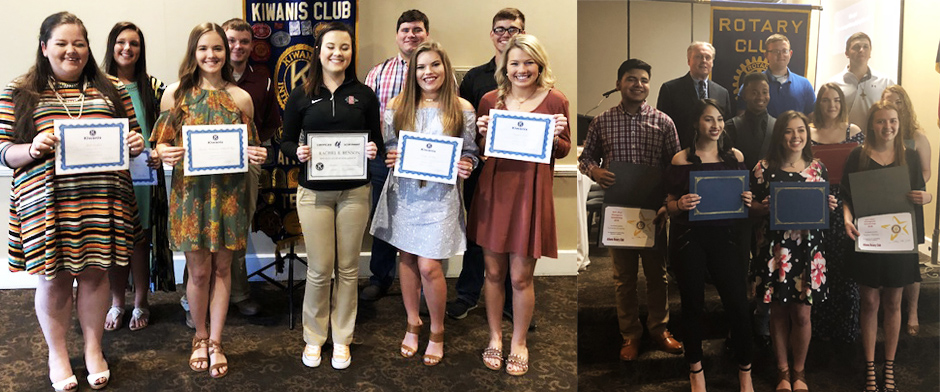 The Trinity Valley Community College Foundation offered more than $240,000 in scholarships to 176 students for the 2018-2019 school year. "This is a record number of students and amount offered from the Foundation since the Foundation's inception, all thanks to the increased generous support of our alumni and friends," said TVCC Vice President of Institutional Advancement Dr. Kristen Bennett. She also serves as the Executive Director of the TVCC Foundation.
"The support of our alumni and friends will change the lives of our students for generations. We continue to make a difference because of this ongoing and generous support," said TVCC President Dr. Jerry King.
Additionally, on Tuesday, May 8, TVCC and Kiwanis offered scholarships totaling $1500 each ($750 from TVCC and $750 from Kiwanis) to Alec Scott of Athens High School, Emily McGhee of Brownsboro HS, Grayson Cain of Cross Roads HS, Jodi Costlow, Brooke Mackenzie Caldwell-Page and Makenzie Elaine Skiles of Eustace HS, Ronney Wayne Harris and Colby Wilbanks of Malakoff HS.
On Thursday, May 10, TVCC and Rotarians offered $500/$500 Orval Pirtle Memorial Scholarships and Young Citizenship Awards to Adrian Givens and Alexis Garza of Athens High School, Finis Thompson and Aleiah Williams of Brownsboro High School and Gavin Farrington and Kaylin Dorsey of Cross Roads High School. $1,000/$1,000 W.P. "Rip" Drumgoole Memorial Scholarships were offered to Brenda Arenas, Victoria Bagley, Gerardo Costilla and Adrian Givens of Athens HS and Taylor Ashley of Brownsboro HS. $1,000/$1,000 Ron Baugh Scholarships were offered to Christian Kocian and Athens Christian Prep Academy, Andrea Gomez and Shelby Hines of Brownsboro HS, Cody Weaver of Cross Roads HS and Justin Jones of Home Education.