New seating approved for Cardinal Gym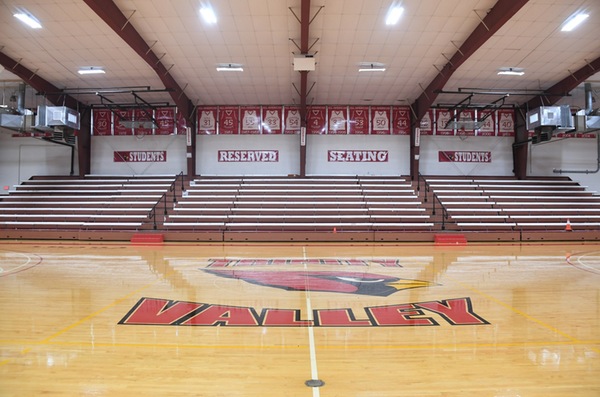 For the first time since the rich-in-tradition facility opened its doors 51 years ago, new theater-like seating will await fans.
The seating project, which will be completely funded by a generous gift of an alumna, was given formal approval Monday night by TVCC board of trustees. The TVCC Foundation board, which secured the gift, has also voiced approval.
"I appreciate and commend the vision of the board of trustees and foundation board for approving the purchase of new seating and renovation of Cardinal Gym," said TVCC President Dr. Jerry King. "The new seating and renovation will tremendously enhance the appearance, comfort and functionality for our students and fans."
"A much-anticipated dream has finally come true for TVCC, its students, alumni and friends because of a generous gift given by one of our beloved alumna," said Vice President of Institutional Advancement/Executive Director of TVCC Foundation Dr. Kristen Bennett . "This generous gift is going to change lives for generations to come. "
The process of selecting a construction firm will now begin. Construction is anticipated in September with an early-October completion date.
Initial plans for the project call for red theater-like seating on both sides of Leon Spencer Court and red bleacher seating on the west end.
Also included in the project are:
Removal of the crow's nest (press box);
Removal of the scorer's tower behind the scorer's table, allowing for full seating along the south side of the court;
Three new scorer's tables;
Two video platforms (one on each side of the court);
Extension of the hallway from the men's basketball locker room, which will allow for entrance to the court on the north end;
Conversion of a storage area adjacent to the weight room into a control room for Cardinal Sports Network
The first basketball game was played in Cardinal Gym in January of 1967.