Fall 2017 Honors Lists Released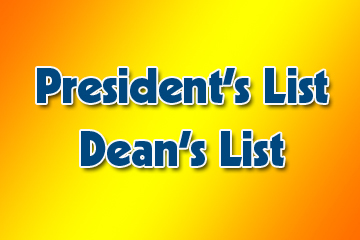 Trinity Valley Community College announces the honors list recipients for the Fall 2017 semester. Recipients are listed alphabetically by hometown:
PRESIDENT'S LIST
ALBA: Jason Angler.
ATHENS: Karina Barrientos, Melissa J. Boister, Blake E. Box, Jennifer Campa, Sheigh L. Cassidy, Christopher C. Collins, Kaitlin E. Costlow, Stephen C. Flood, Diana P. Giordani, Cortney A. Grimes, Emelia M. Guerra, Natalie M. Harrell, Esperanza Hernandez, Hayleigh M. Hillhouse, Myriah M. Hull, Daimu Iwata, Yuvia K. Leon, Gabrielle R. Loredo, Kathryn A. Martinez, Jessica D. McCuin, Raymond A. McDaniel, Stephanie Miranda, Valerie J. Morales, Tran Nguyen, Katelynn M. Owen, Steven R. Pembleton, Sarah A. Pineda, Chandler F. Rowan, Andrea Salazar, Claudia Santana, Mayuko Shinohara, Brianna N. Shultz, Miguel S. Tabuso, Bobby L. Tucker, David P. Viator, Taylor S. Williams, Shelby K. Woolly.
CANTON: Victoria F. Ashley, Trevor H. Hammons, Jessica N. Johnson, Grant T. Lein, Nancy M. Lopez.
CHANDLER: Marcia A. Calhoun, Gracie L. Taylor.
COMBINE: Tylar D. Krause.
CRANDALL: Sydney C. Adams.
EDGEWOOD: Quinton R. Locke, Trent A. Smith.
ELKHART: Sarah C. Adair, Gary A. Billington, Kimberlynn B. Douglas, Allison R. Thomas.
ENCHANTED OAKS : Brooke K. McAtee.
ERIE: Christian S. Desouza.
EUSTACE: Jacob I. Shaheen, Vanessa L. Soliz, Christopher M. Thorne, Delaney M. Worth.
FLINT: Jessica M. Johnston.
FORNEY: Glenda C. Faircloth, Michael A. Garcia, Cameron W. Graham, Brittany D. Long, Leah L. Norman, Gabriela Nunez, Paiten A. Seago, Flor R. Villarreal, Ryan C. Wagle.
FRANKSTON: Natalie R. Brown, Elyssa I. Elton, Mark A. Harcrow.
GRAPELAND: Michaela L. McLeod, Mitchell F. Woody.
GUN BARREL: Jessica B. Phillips.
GUN BARREL CITY: Chance B. Abrahamson, Jessica L. Flud, Zachary A. Franklin, Jared M. Lenz, Timothy M. Smith.
HEARTLAND: Mason S. Berry, David A. Brown.
HICKORY CREEK: Kayleigh M. Lusk.
HOUSTON: Julia A. Dasilva, Mikayla N. Delossantos.
KAUFMAN: Benjamin J. Balis, Charles P. Borrego, William M. Chelette, Brooke E. Coker, Paula K. Cox, Maria E. Cruz, Khristina M. Edwards, Emily G. Gardner, Jose P. Lozano, Tawnee D. Prestridge, Angela L. Riefler.
KEMP: Richard E. Bacon, Sidney M. Gomez, Rachel R. Horton, Donna M. Hyde, Neeley N. Morton, Andrea M. Mullins, Robert S. Stringer, Reece E. Thorne, Dahlia A. Webb, Codi C. Wilhite, Joel A. Zamora.
KERENS: Garrett D. Berry.
LARUE: Jacob C. Dunn, Cassandra R. Partanen, Lesley A. Young.
LITTLE ELM: Brandon A. Floyd.
LUBBOCK: Adrienne D. Luera.
MABANK: Kaley M. Bullock, Bailey C. George, Justin E. Legel, John B. Lichau, Jessica L. Miller, Christopher T. Rich, Kelsey N. Thomas.
MALAKOFF: Joshua J. Bennett, Erika Cardenas, Juan J. Garcia, Veronica B. Gilbert, Teri L. Mercer, Alisha L. Pierce, Donna J. Rinn, Cheyenne N. Robertson, Veronica L. Wheat, Bayleigh C. White, Megan A. Yoder.
MANSFIELD: John J. Lechman.
MAYBANK: Sierra L. Strickland.
MCKINNEY: Mia A. Albertorio.
MESQUITE: Tyler J. Norris.
MONTALBA: Kandis W. Dorman.
MOUNT ENTERPRIS: Andre D. Phillips.
MOUNT PLEASANT: Thomas A. Spann.
MURCHISON: Taylor Attaway, Claudia J. Gilliam, Christine A. Middleton.
NAVASOTA: Shelton R. Eppler.
NEW CANEY: Shelby L. Craig.
ORANGE: Elizabeth K. Pinder.
PALESTINE: Jolene A. Catchot, Serena L. Coker, Tanner R. Davis, Freda A. Deamesi, Macey M. Everhart, Jesus M. Garcia-Castillo, Vanessa N. Gyabaah, Caleb T. Harris, Alexandria C. Henry, Scott A. Keon, Kathryn M. King, Donald H. Mccoy, Annalise N. Meyers, Emmaculate Ngum, Christopher M. Nichols, Ian A. Nicholson, Brandy K. Oden, Brianna B. Samford, Diana Serralde, Juan A. Turrubiartes, Veronica Vinaja, Katherine M. Walker, Aspen J. Williams, Margaret E. Williams, Desirae N. Yarbrough.
PARKER: Molly B. McLeod.
QUINLAN: Tommy G. Page, Misty D. Wallen.
RED ROCK: Shannon L. Klaus.
ROCKWALL: Ariana M. Campos, Madeline F. Griffin.
SAGINAW: Julianna L. Lake.
SAN ANTONIO: Kimberly A. Abundis.
SCURRY: Shallon J. Bateman, Kristina M. Diehl, Jason K. Gensler, Angela C. Hernandez, Dakota R. Jones, Lara N. Maag, Kendyl R. Norris, Kayleigh N. Page, Allison M. Yates-garner.
SEVEN POINTS: Edgar A. Padilla, Sonya E. Stewart.
SILSBEE: Jodee L. Crane.
STREETMAN: Adalelia M. Rivers.
SUGAR LAND: Alexandra C. Holm.
TENNESSEE COLONY: Paul W. Brooks, Marcus L. Clark, Tommy R. Gilpin, Brian M. Lofton, Daniel Torres, Jason C. Vallery.
TERRELL: Christina M. Armendariz, Caitlynn B. Bishop, Brook M. Carlton, Laci M. Copeland, Caitlyn R. Cunningham, Jennifer L. Dillman, Travis M. Fairley, Ilan L. Gallegos, James S. Harrison, Dylan R. Heathcock, Haylee J. Holubar, Jan G. Hood, Kobe L. Huett, Amanda K. Marez, Jessica A. Palma, Kaitlyn D. Paris, Jimmy B. Sanchez, Blayne W. Townsend, Jacqueline C. Vega, Breeann R. Wallace.
THE WOODLANDS: Sean C. Milligan.
TOOL: Wyatt M. Dixon.
TYLER: Destiny G. Bell.
WICHITA FALLS: Audry L. Lopez.
WILLOW PARK: Caleb M. Casey.
WILLS POINT: Carleen Cranford.
DEAN'S LIST
ALTO: Emily R. Smith.
ARLINGTON: Maria F. Perez.
ATHENS: Victoria M. Abrantes, Samantha Banuelos, Trevor J. Baumgartner, Christopher L. Carroll, Courtney K. Chitty, Ethan C. Condon, Landon E. Criner, Brittanie L. Curtis, Chandler L. Earley, Zaria V. Ellis, Orlando D. Fernandez, Cesar M. Gonzalez, Rand R. Hatlevig, Andres F. Ibarguen-Andrew, Jo E. Johnson, Misty D. Johnston, Stephanie D. Jones, Kobe T. Kale, Jeannie K. Keith, Jackie R. Kramer, Teresa S. Lauderdale, Dylan M. Lindsey, Chelsie N. Lookabaugh, Hiroyuki Mishima, Hanna S. Morton, Caleb M. Parker, Mark A. Parnell, Gabrielle N. Robinson, Clayton A. Rockmore, Leslie G. Rodriguez, Casey S. Rogers, Samantha Salazar, Valentine R. Salazar, Valeria Sanchez, Leopold Schaller, Noah A. Sikes, David L. Simmons, Benjamin R. Vandercolft, Felicity E. Walker, Andrew D. Williams.
BASTROP: Kayla N. Roper.
BEN WHEELER: Jacquelyn R. Gaytan, Wendy S. Shearer.
BROWNSBORO: Jessica L. Hardy, Emily T. Howard, Justin W. Little, Paula J. Willard.
BUFFALO: Ginna A. Cox.
BULLARD: Ceilie A. Crawford.
CANTON: Kyle R. Adams, Michael T. Baranski, Madison N. Bass, David A. Bible, Cason J. Cole, Cody L. Easley, Benjamin A. Hayes, Travis D. Perkins, Morgan E. Rush, Sheanay S. Springer, Shirley M. Yancey.
CEDAR HILL: Kealie N. Reagan.
COMBINE: Jase N. Allen, Hunter J. Ryan.
CORINTH: Kenneth W. George.
CRANDALL: Jerry R. Allen, Jazmin Dominguez, Michele L. Fowler, Patricia E. Henson, Taylor C. Roesch, Chelsi M. Simmons, Randi L. Woodham.
DALLAS: Destiny T. Williams.
DEER PARK: Blake H. Stephenson.
DENTON: Colton W. Atkinson.
EDGEWOOD: Sadie E. Adams, Samantha L. Nelson.
ELKHART: Jordyn H. Bruner, Sarah M. Neal.
EULESS: Jacob E. Allen.
EUSTACE: Nicholas A. Adams, Christopher D. Bracken, Cody E. Hunt, Tucker A. Reeve, Mary J. Usmiller, Tanita S. Watson, Caitlin E. Westmoreland.
FAIRFIELD: Chloe G. Wilson, Olivia R. Wilson.
FALL RIVER, MA: Terrell Cabral.
FORNEY: Tanner J. Blakely, Brooke A. Bullion, Kailea M. Floyd, Kimberly Foster-Delapena, Taylor L. Hallmark, Austin J. Hampton, Kameron Hampton, Spencer S. Hill, Kasie M. Jimenez, Kevin M. Largent, Kailey E. McCall, Timothy O. Meregini, Nicolle A. Ponce, Carmen J. Prasauskas, Hanna D. Reeder, Alexandria N. Villanueva.
FRANKSTON: Heather L. McLane, Elizabeth Mendez.
GEORGETOWN: McKenna C. Kahanek.
GRANBURY: Cody R. Welch.
GRAND PRAIRIE: Kirsten A. Boatman.
GRAND SALINE: Dylan J. Baker, Emily D. Barber, Sally J. Evans.
GRAPELAND: Christopher S. Caudle.
GUN BARREL CITY: Jazmin A. Adams, Ariana A. Else, Macy R. Wilson.
HEARTLAND: Alexis Arredondo.
HOUSTON: Karina Gutierrez, Hannah D. Scullion.
HUMBLE: Jaylon M. Henderson.
JACKSONVILLE: Wensdy N. Maldanado.
KAUFMAN: Lauren A. Blakely, Shelby N. Boutwell, Christine E. Fernandez, Porfirio I. Lopez, Kenneth J. Nash, Brittney D. Smith, Zachary T. Thompson, Austin R. Wilson.
KEMP: Jaeleigh E. Bull, Ryder C. Busby, Jessica S. Campos, Tammy D. Cheshier, Shawn M. Freehling, Taylor L. Herring, Allison C. Kent, Ariana M. McDonald, Haylee R. Scott, Brenda N. Votolato.
KERENS: Jessica M. Crawford.
KINGWOOD: Kayla M. Larue.
LA PORTE: Devan A. Gibson.
LAREDO: Roxsanna I. Segura.
LARUE: Jonathan A. Hairgrove, Kayla M. Rife, Zachary L. Solis, Rachel J. Tillman.
LINDALE: Taylor B. Farnham.
LONGVIEW: Bailey S. Muse.
LUFKIN: Javante M. Ellington.
MABANK: Miranda L. Coronado, Chauncey D. Henderson, Jacob L. Keltner, Kelsey M. Nallie, Jillianne B. Odom, Joshua R. Odom, Shane A. Renberg, Melisa D. Santiago, Coty L. Sedlock.
MALAKOFF: Angela M. Jackson, Nicholas S. McKenzie, Dustin C. Miller, Ryan M. Morton, Cheyenne L. Ramsey, Emily A. Shields.
MARTINS MILL: Spencer B. Hines.
MCKINNEY: Courtney E. Lewis.
MESQUITE: Morgan L. Lowry, Damali G. Wilson-Kindred.
MONTALBA: Shakeal J. Jenkins.
MURCHISON: Anahi Trejo.
OAKWOOD: Candace L. McGuire.
PALESTINE: Juliana N. Amoke, Alyssa M. Barnett, Glenn L. Burchard, Angelita Carrasco, Giovanni J. Cerrato, Rylee D. Davis, Marissa L. Fields, Sylvia L. Garcia, Kimberely K. Gatlin, Lisa M. Glover, Micah Grogan, Luke H. Harris, Emery M. Kelley, Caden T. Lafontaine, Joel L. Lavoie, Sintia C. Montes, Anthony J. Okrongly, Kaylee M. Parker, Misty D. Phillips, Emma L. Ricard, Rachael T. Shokabi, Steven R. Taylor.
PASADENA: Matthew K. Martin.
PORTER: Shane P. Carney.
QUINLAN: Silvia Olvera.
ROCKDALE: Wendell C. Mitchell.
ROCKWALL: Areli G. Rodriguez.
ROWLETT: Ty M. Howell.
ROYSE CITY: Coltin L. Hoepfner.
SAGINAW: Hannah M. Peacock.
SAN ANTONIO: Brianna N. Kinnard.
SCURRY: Ethan C. Kelly, Callie E. Wampler.
SEVEN POINTS: Jodi L. Costlow.
STATESVILLE: Amber L. Pickens.
SUGARLAND: Hailey C. Curl.
TENNESSEE COLONY: Nathaniel T. Harrison, Tamber A. Gilpin, Nicholas J. Lee, Gary R. Underwood.
TERRELL: Evelin N. Ayon, Andrew G. Bankston, Kailey M. Bolluyt, Robert G. Butler, Sherrie D. Cagle, Chris W. Clauder, Manuel A. Garcia, Marcos J. Gonzalez, Jordan L. Jaure, Jorge R. Juarez, Cody W. Lambert, Allye S. Mannon, Natosha M. Nickerson, Maria C. Pena, Jacqueline Pina, Jacqueline Rosales, Karina P. Salazar, Maygen M. Sewell, Tammy L. Shafer, Vaylie J. Sigler, Ramiro Velazquez, Haley M. Warwick, Kevin G. Williams.
THE WOODLANDS: Allicia R. Bauersfeld.
TOOL: Tony Biernacki, Rachel E. Smith, Charlsey Stearman.
TRINIDAD: Brandi J. Cooper, Kimberly K. Krase.
WHITEHOUSE: McKenzie L. Baskin.
WICHITA FALLS: Mercedes N. Brooks.
WILLS POINT: Kaitlyn M. Davis, Tristan A. Dodd, Marcelino P. Montano, Jeffrey S. Todoroff.
Students must be enrolled in at least 12 semester hours, make no failing grades and secure an average of at least 4.0 grade points for the semester to be included on the President's List, and at least a 3.5 grade points to be included on the Dean's List.