Ruth Iverson, BSN, RN, CNOR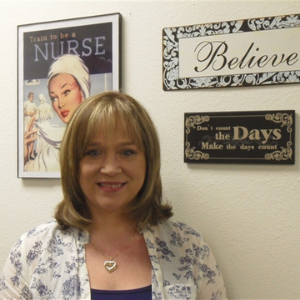 Ruth Iverson
Skills Lab Coordinator
Mrs. Iverson is the Coordinator for the Nursing Skills Lab and works with the Vocational and Associate Degree nursing students.

She received her Associate in Science in Nursing from San Jacinto Jr. College in Pasadena, TX in 1980 and her Bachelor of Science in Nursing from the University of Texas at Arlington in 2016. She has nursing experience in Medical-Surgical, Intensive Care, Perioperative and GI/Endoscopy.

She has obtained certification in Operating Room Nursing (CNOR-E) and GI nursing (CGRN). She is a member of Phi Theta Kappa, Sigma Theta Tau, and Association of Operating Room Nurses (AORN). She is an American Heart Association Instructor for BLS and ACLS as well as the Training Center Coordinator for the American Heart Association Trinity Valley Community College Training Center.
Mrs. Ruth Iverson, BSN, RN, CNOR
riverson@tvcc.edu
469-614-3808