How to clean out your Cardinal Email
Having trouble sending and receiving emails? Unfortunately, your TVCC Cardinal Email can only store so much information. It is important to periodically ensure you are making room for emails to be sent and received.
1

Log In to your Cardinal Email
You know the drill! Log into your TVCC Cardinal Email on a computer or smart phone using your Cardinal ID and password combination. While it can feel inconvenient these days, it is somewhat easier to organize and cleanup your inbox from a desktop computer or laptop, rather than a mobile device.
2

Delete Unnecessary Emails
Go through the emails and notifications in your inbox, and delete anything you don't need to keep. Not sure if it's trash? You can create folders within your regular inbox to keep important emails organized. Anything you don't need, or aren't going to even bother opening, can hit the road.
3

Empty your Deleted Items Folder
Now that your inbox is empty of garbage, everything should work right? While this seems like a no brainer, your account has a back-up "Deleted Items" folder where it stores things you have deleted in case you accidentally deleted something important. Just right-click this folder, and select to "Empty Folder" from the menu. Now we've taken out the trash!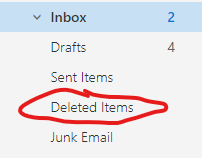 4

Stay Organized, and Repeat when Necessary
Your TVCC Carindal Email is your main line of communication with the college. It is where you will get notifications about registration, and payment reminders, and often the only way we may be able to contact you. This is due to security reasons and to protect our students' privacy. Try to keep your inbox organized so you can rest assured you are receiving our communications, and that you can reach back out to us as well.
Create folders to store emails you need to keep. You can have as many as you need.

Check your email at least once a week, and try to spend a few minutes organizing it each time.

You can receive your TVCC emails on your movile device; swing by IT Services if you need assistance setting up your email.

Empty your Deleted Items folder regularly to keep space free.