Where is my 1098-T Tax Form?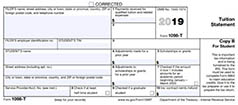 1098-T forms have an annual due date of January 31.
All 1098-T forms for 2019 will be sent via USPS mail this year. Up to two separate forms will be mailed to each student. One will contain information from TVCC classes taken between January and August 2019 (spring 2019 or summer 2019). A separate form will contain information for any TVCC classes taken between September and December 2019 (fall 2019). Students will need both forms for tax purposes. Forms will mail at the end of the day on Friday, January 31.
If you have any additional tax questions, please contact your tax advisor for guidance.