Introduction to Court Reporting and Broadcast Captioning Course A Success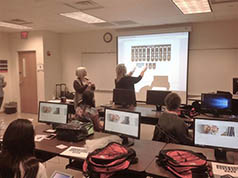 Texas Court Reporters Association is holding an introductory course on the TVCC campus where attendees can learn the basics of stenographic theory. This course is providing a hands-on opportunity to learn the basics of steno theory in a virtual classroom environment, which is a beneficial prior to entering a two-year program for court reporting.
The course also introduces attendees to the many career options available to today's court reporting and captioning professionals.
The first session of the six-week course was held last week, with Melanie Forbes, a practicing Henderson County court reporter teaching the course.
This course is full, and meets weekly until Mar. 12.
Information on additional courses in early summer will be coming soon.