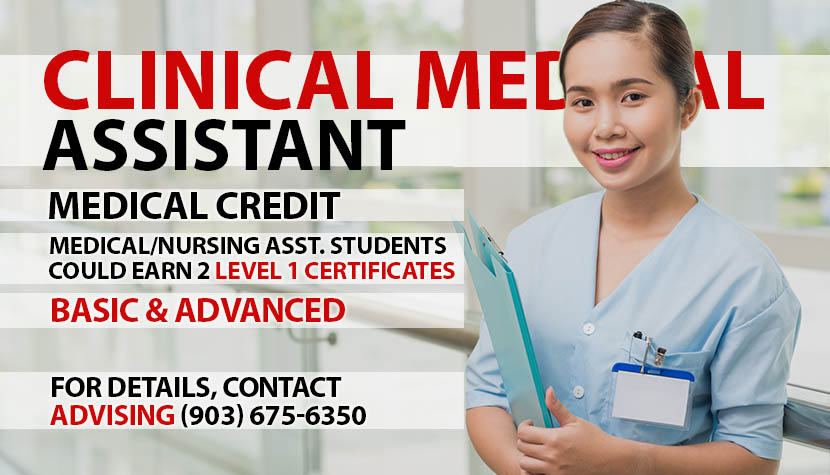 Do you like to help others?
Are you interested in healthcare?
Do you like variety in your work?
Are you seeking employment in a fast growing occupation?
Would you like a pathway where training at a beginning level contributes to training at a higher level? You can advance without repeating training courses.
Would you like to work in outpatient care at a clinic?
Would you like to work with direct patient care in a long term care setting such as a hospital or nursing home?
The Clinical Medical Assistant Certificate Program, administered through the TVCC Health Occupations Division, provides training to individuals who support physicians, medical professionals and medical programs. A clinical medical assistant works with both direct patient care (back office) and in medical administrative support (front office) positions.
This training provides hands-on, face-to-face skill training and preparation for the Certified Clinical Medical Assistant Exam (CCMA). Some classes may be offered as on-line courses.
Course

Description

Credits

Term 1

NURA 1307

Body Systems

3

HPRS 1105

Essentials of Medical Law/Ethics for Health Care

1

MDCA 1317

Procedures in a Clinical Setting

3

MDCA 1452 or

PLAB 1323

Medical Assistant Laboratory Procedures or

Phlebotomy

4 or

3

Total
10 or 11

Term 2

MDCA 1348

Pharmacology & Administration of Medication

3

Elective (select from approved list)

2

MDCA 1254

Medical Assisting Credential Exam Review

2

MDCA 1160
Clinical - Nursing Assistant/Aide
1
Total
8
Grand Total
18 - 19
Approved Electives
NURA 1401
Nurse Ailde for Health Care
4
NURA 1160
Clinical- Nursing Assistant/Aide
1
MDCA 1321
Administrative Procedures
3
MDCA 1313
Medical Terminology
3
ECRD 1211
Electrocardiography
2
PLAB 1171
Phlebotomy Lab
1
For those transitioning from previous curricula:
HITT 1249 will substitute for MDCA 1348
MDCA 1417 will substitute for MDCA 1317
HPRS 1205 or 1305 will substitute for HPRS 1105
POFM 1317 will substitute for MDCA 1321
PLAB 1164 or PLAB 1191 will substitute for PLAB 1171
MDCA 1360 will substitute for MDCA 1160
Credit for Prior Learning
A student may receive credit for prior learning if they have received a relevant certification, including Nurse Aide Certification from TDSHS (CNA), Medication Aide Certification from TDSHS (MA), Phlebotomy Technician from the American Society of Clinical Pathologists or Certified Phlebotomy Technician from National Healthcareers Association. See the current catalog for more information.
Students majoring in Medical/Nursing Assistant programs have the opportunity to earn these industry/state certifications.
CNA (Certified Nurse Aide) – A Texas Department of Health and Human Services credential. (long term direct patient care)
CCMA (Certified Clinical Medical Assistant – A nationally recognized industry certification from National Healthcareers Association (out-patient care and medical front office skills)
CPT (Certified Phlebotomy Technician) – nationally recognized industry certification for National Healthcareers Association (out-patient care and hospital labs)
All courses in the Basic Medical Assistant Certificate are available for ISDs to provide as dual credit, and can be scheduled for completion while in high school. Contact TVCC dual credit department or your local school administration.
Medical careers is the fastest growing employment field in the United States. (U.S. Dept. of Labor)
Clinical Medical Assistant Certificate

- prepares for careers focused on out patient care, including physician offices and clinics.
Mini certificates of 9-14 credits available for specific employment skills. Available for:
Phlebotomy
Nurse Aide
EKG Technician
Is Financial aide Available?
Dual credit workforce education training if generally tuition free at ISDs within the TVCC Service Area.
Adult students may qualify for PELL funds, scholarships, and/or loans. Contact TVCC Financial Aid Office.
Can I take Medical/Nursing Assistant training as a non-credit student?
Fast Track CNA (Nurse Aide) and CPT (phlebotomy certification) are available as non-credit training with the TVCC Continuing and Workforce Education Department.
The earned certifications can be used for employment and can be articulated into the credit Medical/Nursing Assistant Program for college credit
Is high school graduation/GED required?
Dual credit students can take the training courses for both high school and college credit simultaneously.
Non-credit Fast Track training for CNA (Certified Nurse Aide) – student must be at least 16 years of age, academically and physically capable of completing the training and certification.
Non-credit Fast Track training for CPT (Certified Phlebotomy Training) – student must be at least 18 years of age, academically and physically capable of completing the training and certification.
High school graduation/GED is required for Credit Clinical Medical Assistant program majors.
Is TSI testing required?
TVCC workforce certificate students are exempt from TSI; however, training is in college courses with college academic rigor. Students are welcome to enter and prove their capability of completion.
What are the required immunization?
For students in this course who may have a criminal background, please be advised that the background could keep you from being licensed by the State of Texas. If you have a question about your background and licensure, please speak with your faculty member or the department chair. You also have the right to request a criminal history evaluation letter from the applicable licensing agency.