Virtual Advising with TVCC
All advising will be done in the following formats until further notice:
via email to advisinghelp@tvcc.edu from your Cardinal Email account.

via phone.

via Virtual Advising with Zoom.
There will always be some discussions that need to take place face-to-face with an advisor. Maybe you aren't eligible to register yourself, or just feel the need for guidance and aren't able to visit campus during business hours. E-advising is available if you do know what you want to register for; otherwise TVCC now offers Virtual Advising using Zoom! All you need is the ability to run Zoom from a computer or laptop with a camera, or your mobile device. Virtual Advising is available during regular business hours on a limited basis, and some campuses to offer appointments.
Being Advised via Zoom
If you have not received your acceptance letter as a TVCC student, please do not join the waitlist for registration.
Visit our Get Started page to begin your admissions process.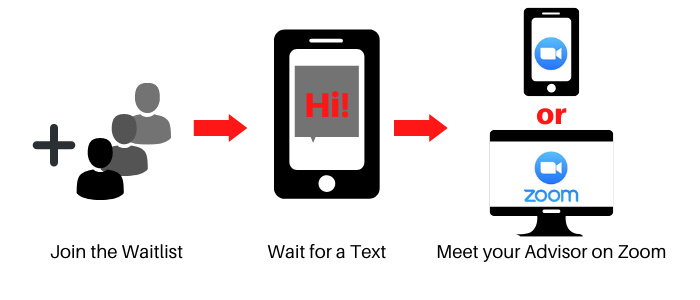 So how does it work? Don't worry - in a few easy steps you can be ready to get in line for a virtual advising meeting!
What you will need:
An internet connection - this can be from any computer with access, or on your mobile device with a WiFi or data connection. There is a Zoom app available at no cost for mobile devices.

A camera - your computer, laptop, or mobile device must have a camera to be advised via Zoom. No need to sweat, we don't need to see your face the whole meeting, but we do need to be able to verify your identity.

A microphone - while chat is available within a Zoom meeting it is best to be able to speak freely for time management.

ID - if you are a current student, your student ID is best. Otherwise any government issued ID that can be used to confirm with whom we are speaking is fine.
How to get in line for a meeting:
Just join the waitlist to see an advisor, using WaitWhile, online or on campus.

When you have checked in, you will receive a text message confirmation.

You may not hear back for a bit as you progress through the line. You can watch your progress through the line with a link sent to the email address you provided. There is no need to join the line twice.

When it is close to your turn to meet with an advisor, someone will send you another text message with a Zoom meeting ID and meeting password.

Join the meeting online with your computer, laptop, or mobile device. There is a Zoom app available at no cost for mobile devices.

Talk to your advisor! Please keep in mind there are still others just like you that may still be waiting in line.
How to Join your Zoom meeting:
Read TVCC's Online Etiquette Tips