Virtual Advising
Sometimes, you just want to visit face-to-face with an advisor, but what happens when you aren't able to visit campus during business hours? TVCC now offers Virtual Advising using Zoom! Virtual Advising is available during regular business hours on a limited basis for student who are eligible.
To be considered eligible for Virtual Advising, students must:
Be contactable at the provided phone number via SMS text messages.

Have a reliable internet connection.

Have a microphone and camera on your device.

Be able to provide ID.
Please read the instructions for Virtual Advising below before joining the waitlist or making an appointment if you are new to the process.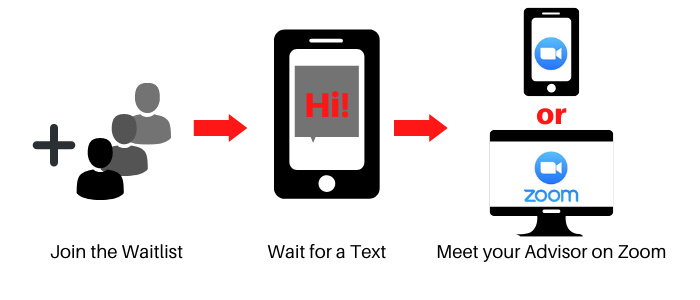 Directions for completing Virtual Advising:
1

Be Registration Ready
New Students: If you are being advised to complete registration, you must be a fully accepted TVCC student. If you have not received your acceptance letter and been made an active student, please do not sign up for registration. We do offer admissions information for new students if you have some general questions or you can visit our Get Started page to begin or review your admissions process, just be aware that we cannot register students who are not registration ready.
Current Students: Those already in attendance with us should check their My Cardinal Connect student portal for any account holds before signing up to be advised virtually.
2

Be Zoom Advising Ready
In order to be virtually advised via zoom you will need to meet the guidelines below:
Be contactable at the provided phone number via SMS text messages - please keep your phone handy for when you get your message containing your Zoom meeting information. Also, if your phone is set to "do not disturb" at the time, we will not be able to contact you.

An internet connection - this can be from any computer with access, or on your mobile device with a WiFi or data connection. There is a Zoom app available at no cost for mobile devices.

A camera - your computer, laptop, or mobile device must have a camera to be advised via Zoom. No need to sweat, we don't need to see your face the whole meeting, but we do need to be able to verify your identity.

A microphone - while chat is available within a Zoom meeting it is best to be able to speak freely for time management.

ID - if you are a current student, your student ID is best. Otherwise any government issued ID that can be used to confirm with whom we are speaking is fine.
3

Get on the Waitlist
Just join the waitlist to see an advisor using WaitWhile, online or on campus, anywhere you see the "Get on Waitlist" button. When you have checked in, you will receive a text message confirmation. You may not hear back for a bit as you progress through the line, but you can watch your progress through the virtual line with a link sent to the email address you provided.
Line not your style? We also have appointments available! Just use the same "Get on Waitlist" button, and then choose to schedule on appointment on the next page.
4

Join Your Advisor on Zoom
When it is close to your turn to meet with an advisor, someone will send you another text message with a Zoom meeting ID and meeting password. If you have chosen to make an appointment, you should receive this message around your appointment time. Join the meeting online with your computer, laptop, or mobile device. There is a Zoom app available at no cost for mobile devices. We do have directions for joining the meeting below, for first timers.
Now you can talk to your advisor! Please keep in mind there are still others just like you that may still be waiting in line.
How to Join your Zoom meeting:
Read TVCC's Online Etiquette Tips
WaitWhile uses text messages to communicate with you regarding your appointment/place in the Same Day Service line. If you are having trouble receiving these, it may be best to add the number to your contact list.
For Athens Campus add: (844) 325-1712
For Palestine Campus add: (844) 333-5524
For Terrell Campus add: (844) 333-5488
For Terrell HSC add: (844) 333-5567
Often times your email notifications may be being blocked by a spam box, or being sent to junk. You should be able to search your inbox for "TVCC" or "WaitWhile" to find these notifications. Once found, depending on your carrier, you should have the option to prevent future messages from being blocked/misfiled as junk mail.