E-Advising with TVCC
The Advisement Center understands that sometimes students already know what they want to register for, but may not be elgiible to register themselves. There will always be some discussions that need to take place face-to-face either on campus or virtually; however, we are glad to now be able to offer E-advising. E-advising means that you can be registered for classes electronically via a fillable E-form available right from the website. Not all student situations will be eligible for E-advising; please check the criteria below to see if E-advising is right for you. If so, follow the directions below to complete your E-advising with TVCC.
You are eligible to E-advise if:
You have completed your full admissions process

You have reviewed TVCC's degree pathways and selected the degree you wish to pursue

You know for sure which courses you would like to enroll in -

Advising can not pick your courses for you
Directions for completing the E-advising form:
1. Pick your courses from the Schedule of Classes.
You can use the schedule of classes to search for courses by semester, campus, subject, and even instructor. Once you have picked some courses form the schedule of classes, be sure to take a note of the section numbers for the courses you wish to enroll. Your E-advising form must be complete with course section numbers to be processed. The section numbers are located after the course abbreviation and course number. The graphic below may help you identify the information you are looking for.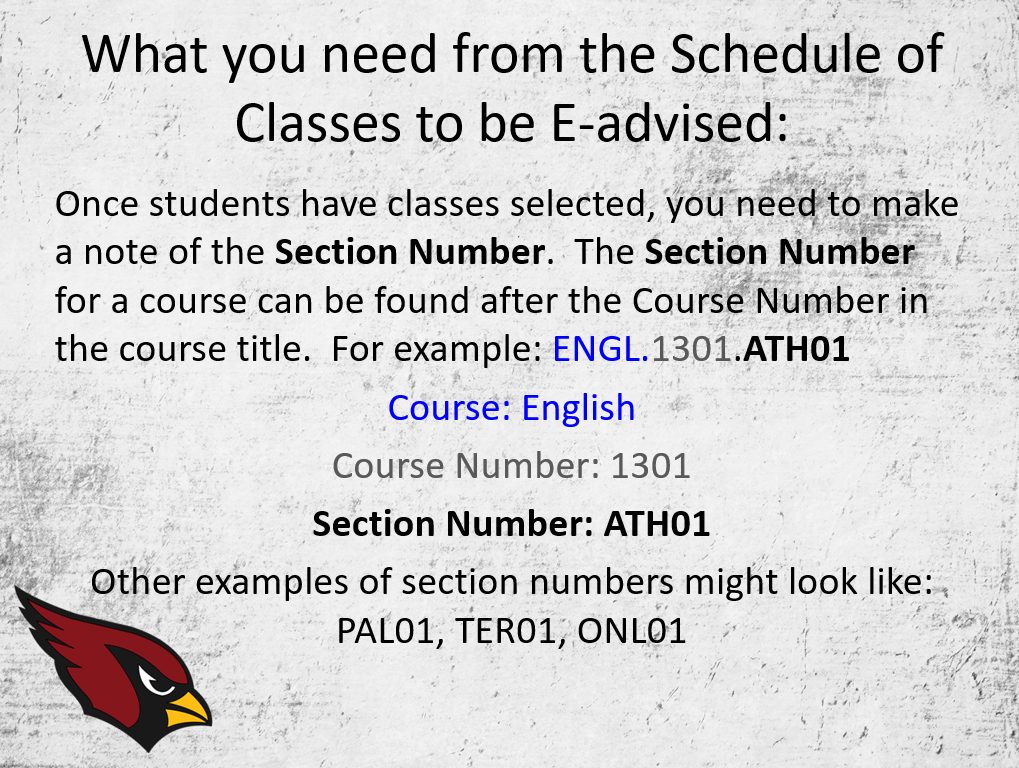 If you are unsure of what courses you need to be taking, E-advising may not be the best option for you. The advising staff can not pick your courses for you as it is your decision what times you would like to attend, or if you prefer online, etc. Once you have picked some courses form the schedule of classes, you are ready to fill out your E-advising form.
2. Fill out the E-advising Form
Once you have your section numbers you will just need to fill out the E-advising form, top to bottom with as much information as you have for us. The student information section helps us identify you as a student. The bottom portion is for you to select the semester you are registering for, and input those section numbers for your selected courses. Course input should look much like the example above, course abbreviation, followed by the course number, and finally the section number (i.e. ENLG.1301.ATH01). Please be aware that forms submitted without the section numbers will not be processed.
You will have to check the box agreeing to the terms and conditions of the E-advising process, and then you can submit your from. This does not complete your registration, but submits the form to the advisement offices.
3. Keep an eye on your E-mail
You should receive an email confirmation once the form has been submitted, to the e-mail address provided when you fill out the form. You will receive a secondary email from an advisor with your completed schedule once they have had the opportunity to review your from and complete your registration. They may also reach out to you if they have any questions regarding your form; be sure to stay in touch until you have a copy of your schedule to be sure that you have fully completed your E-advising. Once you have your schedule, the process is complete.