It was something About A Horse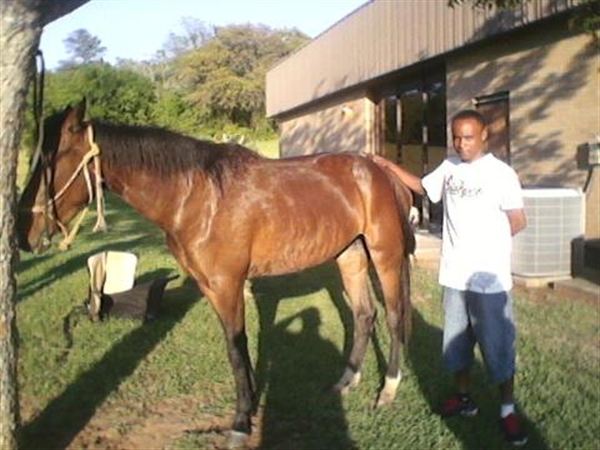 PALESTINE – Carlos Hunt knew he had to get to class last Thursday, but he didn't have his vehicle. So he decided to use a little horsepower, instead.

Hunt, an 18-year-old student in the GED program at Trinity Valley Community College's Palestine campus, caught the attention of his classmates and instructors last week when he showed up to class on his horse. What resulted were a few chuckles and a reminder that some students will do whatever it takes to get an education.

It started last Thursday, when GED instructor Mike Murray learned from his wife, Deb (an ESL instructor at the Palestine campus) that Hunt had called about 30 minutes before the start of class. She couldn't quite hear what Hunt was saying over the phone, but heard enough to inform her husband, "It was something about a horse."

The purpose of the call became a little more clear as Mr. Murray drove to class a few minutes later and saw Hunt headed toward the Palestine campus on horseback. Hunt, wearing his backpack, waved to Mr. Murray as he drove by. A few minutes (and a 1 ½-mile horse ride later), Hunt arrived on campus and tethered his horse to a pole near the Calhoun Building.

As the class began, an Anderson County deputy sheriff walked into the room to politely inquire if the horse tied up outside belonged to anyone in the class. Sure enough, Hunt spoke up and explained the horse was his and that he had to ride it to get to school because a family member had borrowed his vehicle.

"Now that's dedication," the deputy said, laughing.

Mr. Murray, always one to take advantage of a teachable moment, took the class outside to look at the horse. Inevitably, talk turned to the dedication Hunt had shown to get to class – which meets four hours, four nights a week for four weeks. "You don't want to miss Mr. Murray's class," one student said.

Reflecting on that comment later, Mr. Murray said, "I like that. It shows a lot of commitment and determination just to get there and be a part of class. A lot of these students, sometimes they get a bad rap for whatever reason – they just don't get the credit they deserve. I work them pretty hard, so I thought this was a pretty neat deal."

Hunt – who said his entire family owns and rides horses – said he didn't think twice about hoofing it to class. He dropped out of school two years ago, ran into a few road bumps in life and soon decided – with the help of his stepmother – to turn things around. That road began with education and earning his GED.

"I want to have a better job and a better life," Hunt said. "And this class is going to better my life."