TVCC Spring Graduation Ceremonies Friday May 11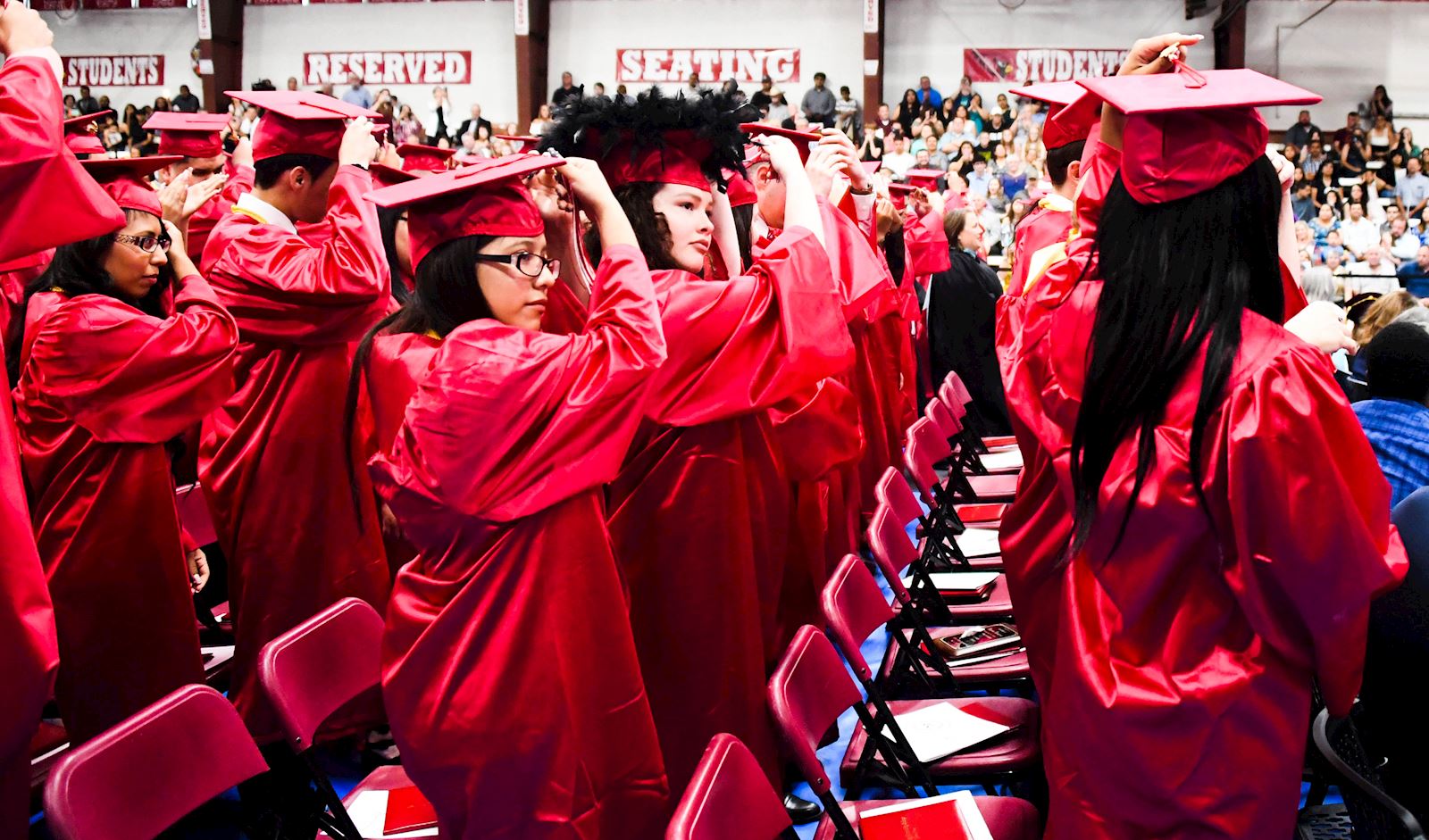 Trinity Valley Community College held two Spring graduation ceremonies Friday, May 11, awarding Associate Degrees and Certificates of Completion at 4:00 p.m. and Associate of Arts degrees at 6:30 p.m. Those receiving Associate Degrees were Analyse M. Abrams-Malone, Leslie D. Adair, Ideal Ademaj, Alyson Kimberly Alvarez, Christina M. Armendariz, Kayelyn M. Ashmore, Diamond M. Autry, Evelin Natali Ayon, Lindsey M. Bailey, Samantha Banuelos, Karina Barrientos, Danielle S. Beatty, Madison P. Beesley, Brian Clayton Black, David A. Bojalil, Kailey M. Bolluyt, ZaQuira E. Brown, Kaylee Bree Buckley, Yesenia Canales, Coleman M. Carpenter, Colton A. Carriere, Juan B. Carrillo, Tyler L. Carroll, Gianella A. Castaneda, Ivan Castaneda, Giovanni J. Cerrato, Brooklyn N. Cobern, Serena L. Coker, Molly Ann Cole, Ethan C. Condon, Dustin Ray Conner, Tyler Scott Crews, Rylee D. Davis, Freda A. Deamesi, Glenda C. Faircloth, Travis M. Fairley, David E. Feig, Marytza Garcia, Jesus M. Garcia-Castillo, Krystal G. Gardner, Justin C. Gatlin, Marcos J. Gonzalez, Tracy A. Gore, Austen D. Grammer, Daniel D. Green-Moore, Morghyn T. Harper, Austin R. Harris, Preston J. Harris, Spencer Blake Hines, Taylore R. Homolka, Ryan L. Honea, Jourdyn C. Horton, Hannah M. Hummell, Nathan R. Ihle, Breonna J. Jackson, Solomon Lee Jackson, Deja M. Johnson, Miles E. Koehler, Nicholas Kucera, Ashley I. Kutscherousky, Kaylee M. Larue, Tmarrion D. Lee, Amy N. Lopez, Kathryn A. Martinez, Donald Howard McCoy III, Tiffany M. McLemee, Lennie Milczanowski, Alex O. Miranda, Stephanie Miranda, Angel S. Moore, Kimberly Morales, Sonia Elizabeth Moreno, Wilbert A. Murillo, Malachi W. Musil, Ian A. Nicholson, Bethany D. Oglesby, Rhett M. Parmer, Pamela J. Prosper, Jessica L. Ramirez, Maximiliano Felipe Ramirez, Cody L. Rayburn, Noemi Rodarte, Keilan A, Rodgers, Jacqueline Rodriguez, Leslie G. Rodriguez, Kimberly Romero, Aimee L. Sanchez, Tammy L. Shafer, Emily A. Shields, Taylor Shrout, Noah A. Sikes, Seth G. Smetak, DianaS. Soto-Ramirez, Laronda Kay Stacy, Daniel G. Stanley, Danaleigh A. Stiles, Matilyn J. Taliaferro, Kathleen Tellez, Brandi L. Thomas, Dillon J. Thompson, Jessica Lynn Thompson, Zachary T. Thompson, Delfina J. Valdelamar, Jesse Valdelamar, Jonathan Valdelamar, Karen N. Valdelamar, Ramiro Velazquez, Jr., Kiara Villa, Patrick A. Willett, Andrew D. Williams, Cecelia M. Woodall, Braylon M. Woods,Donavyn B. Wooldridge, Haley T. Yates, Rachel D. Young and Eduardo M. Zea.
Receiving Certificates of Completion were Gilberto Aguilar, Carson Lane Baker, Dylan James Baker, lrinna G. Bass, Garrett Berry, Kyle Lee Box, Karissa Breckel, Yessenia Burciaga, George Campa, Tammy D. Cheshier, Nathan L. Cox, Felicia B. Cushenbery, Librado Roberto Diaz, Byron P. Bleser, Katie Lynn Floyd, Sarah N. Foster, Rebecca DeAnna Fowler, Adrian Godoy, Ben P. Gosnell, Noah B. Guillen, Natalie Paige Hargrove, Jan G. Hood, Stefanie Houston, Tristan W. Lannom, Luis J. Leon, Angelica T. Lippart, Justin W. Little, Anthony J. Lopez, Kenneth Love, Catelyne L. Lovell, Alma Luna, Armando Macias, Roger T. McLaughlin, Licsi G. Mejia, Dalton W. Merritt, Christine Ann Middleton, Stacia L. Miller, Kelsye B. Norton, Kalin Pettie, Alisha L. Pierce, Ida LaVell Powell, Jared C. Pulley, Jeremy W. Reichenau, Shane Austin Renberg, Cuahutemoc Reyes-Gonzalez, Yoselin Rios, Vanessa Rivera, Yesenia Rivera, Markel R. Savala, Kaleb D. Smith, Lisa M. Smith, Madison B. Smith, Marlen J. Spivey, Robert C. Thompson, Darrien Wheeler and Izabela Zareba.
Those receiving AA degrees were Kimberly Ann Abundis, Stanley E. Adams, Juliana Nneka Agbo, Bethany L. Airhart, Amanda Rena Allen, Jerry R. Allen, April M. Amendson, Michael P. Androsov, Johnathan Raedarius Anthony, Tera J. Arledge, Jessica S. Arnold, Alexis Arredondo, Morgan N. Ashton, Quintraven R. Baldwin, Michael T. Baranski, Anthony Barrera, Madison Nikole Bass, Semonna Nellen Battenfield, Jeffrey Daniel Baum, Cecilia J. Becerra, Melissa P. Bento, Ebony Black, Madison LeAnne Black, Tanner J. Blakely, Korbin J. Boles, Anastasia I. Bolotina, Blake Everett Box, Elbert Wade Box, Jr., Brandi L. Bratton, Jake R. Brooks, Glenn L. Burchard, Jennifer J. Burchard, Caddy A. Burke, Allisan M. Butler, Shawn C. Butler, Justin D. Byram, Cheyenne L. Cable, Terrell Cabral, Loriell Mechell Callahan, Savannah M. Campbell, Kierra L. Carr, Yazrnin Dellanira Carreon, Hollie Mac Cathey, Abigail J. Cauley, Cole A. Chandler, Lacy Ragan Chapman, Erika L. Chavarria-Rios, Maricela V. Chavez, Courtney Kathleen Chitty, Jamie D. Clements, Joel L. Cleveland, Kolby J. Cluse, Jason Lee Cogan, Brooke Coker, Chelsey N. Cope, Ethan E. Cortado, Christine N. Cox, Devonon J. Cumby, Hailey Curl, Dajah R. Daniel, Alexis D. Davis, Ashley Y. Davis, Hunter C. Davis, Elizabeth M. Day, Charles M. Dearth, Nathaniel D. Depappe, Texas Lee Desselles, Jennifer Lee Dillman, Chelsea R. Dollarhide, Brianna Allyssa Donaldson, Austin L. Dowdy, Hannah L. Dugger, Joseph Riley-Alexander Duran, Jaime Jesus Echenique, Emily Nicole Elliott, Stephanie Sophia-Lynn Espinoza, Jazzlon T. Evans, Sally J. Evans, Jamie L. Faircloth, Whitney K. Ferguson, Avery L. Ferrell, Adrianna A. Ferretiz, Nicholas C. Foster, Trevor Wayne French, Yolanda L. Frye, Caleb Garrett Fuchs, Preston T. Furr, Elva G. Galarza, Rosa E. Galvez, Perla M. Garcia, Sylvia L. Garcia, Bailey C. George, Kenneth W. George, Kerensa L. Gibson, Diana Pontalti Giordani, Cynthia A. Gonzales, Edith E. Gonzalez, Juan Jose Garcia Gonzalez, Prycila M. Gonzalez, Kaylea N. Graham, Richard Gutierrez, Jonathan A. Hairgrove, Savannah Jayne Hairl, Tauretta D. Hall, Holli N. Hammer, Kelsey N. Haning, Kendall R. Hardin, Alyssa Lenae Harris, Suzanne M. Hart, Tyler S. Hartnett, Michael Peyton Heard, Juston K. Helms, Patricia Elizabeth Henson, Ashley M. Hernandez, Samantha Guadalupe Hernandez, Alexandra C. Holm, Leah L. Hudson, Kimberly Hughes, Jered James Hulick, Kerstin J. Humphries, Chance D. Hyles, Andres Felipe Ibarguen-Andrews, Princewill Ibeabuchi, Jonathan Krystopher Jackson, Sonia M. Hernandez Jaimes, Jessie L. Johnson, Ryan A. Johnson, Jr., Misty D. Johnston, Jorge R. Juarez, Ryah Kamakalikolani Kaniho, Shelley W. Karnes, Amanda A. Kees, Emery M. Kelley, Jalani S. Keo, Scott A. Keon, Shannon Klaus, Briley L. Knowles, Brayten W. Kubecka, Bree N. Kunz, Maria Landaverde, Pamela A. Lankford, Kayla M. Larue, Dylan A. Lassiter, Grant Thomas Lein, Courtney Elizabeth Lewis, Tiffani R. Looney, Kaylee Anais Lopez, Porfirio Lopez Ill, Adrienne D. Luera, Breann N. Luna, Allye S. Mannon, Samantha S. Marta, Dana D. Mathews, Maci B. Mattingly, Kenneth D. McAfee, Jessica D. McCuin, Candace L. McGuire, C. J. McLeod, Matthew L. McMillan, Jacob I. McPherson, Sammantha Shanice Megaw, Yildon Mendoza-Jaimes, Michelle Elizabeth Miller, James R. Mitchell, Wendell Charles Mitchell, Heather Richelle Monroe, Amanda L. Muniz, Cearra Jazmin Nichols, Christopher Michael Nichols, Courtney R. Nichols, Jewel Nieto, Sarah Rene Norwood, Beatriz A. Nunez, Gabriela Nunez, Gloria A. Nzeribe, Robert D. Oberlender, Brandy K. Oden, Jeremiah Bradley Odom, Samuel K. Olorunlogbon, David A. Orsborn, Lena M. Ostransky, Marshalla P. Padgett, Edgar A. Padilla, Chelsea L. Page, Kayleigh N. Page, Brianna Nichole Palos, Kaitlyn D. Paris, Mele L. Pasikala, Hannah M. Peacock, Patrick M. Peek, Angela Marie Penland, Bonnie A. Peterson, Nicole Crotser Petty, Lorenzo C. Phillips, Misty D. Phillips, Amber L. Pickens, Isaiah L. Pickens, Lizabeth Cristel Pina, Sarah Angela Pineda, Breanna S. Pinkston, Kenneth H. Pleasant, Kierra K. Poe, Jaquay D. Pough, Megan B. Preston, Madalyn Prichard, Chaaz Quigley, Sara Elizabeth Ramirez, Evelyn M. Rangel, Koreigh M. Redding, Nicholas J. Ritter, Ashlynn D. Robinson, Jasamine L. Rodgers, Pinglee Rodriguez, Austin B. Rodriquez, Julie Elizabeth Rogers, Mage J. Roman, Jose A. Romero, Manny Romero, Kayla N. Roper, Megan L. Rush, Donald Ray Russell, Tiffany R. Samford, Jimmy Sanchez, Megan N. Sanmiguel, Melisa D. Santiago, Meagan R. Santoyo, Joseph N. Saylor, Leopold Schaller, Hannah D. Scullion, Jerald R. Shinn, Mayuko Shinohara, Elisa M. Shrope, Chelsi Simmons, Emily R. Smith, James R. Smith, Sarah Smith, Thomas A. Spann, Nicholis A. Spencer, Shannon K. Spradling, Brayton A. Stenovitch, Randee Lea Stevens, Blake N. Stutts, Miguel Spencer E. Tabuso, Jeremiah R. Tarrant, Steven Ray Taylor, Grace J. Teel, Napoleon M. Tembuh, Jake Ryan Thompson, Katelyn B. Thompson, Rachel J. Tillman, Pablo Tirado, Matthew D. Torres, Randi D. Trail, Jabari D. Turner, Juan A. Turrubiartes, Jr., Mary H. Two-Shields, Benjamin R. Vandercolft, Jacqueline C. Vega, Jessica Vega, Cesar Vidana, Jr., Adan Villegas, Rachel Nhi Vu, Callie Emaline Wampler, Breann E. Waymire, Hannah Elizabeth Welty, Veronica L. Wheat, Taylor Brooke Whiteley, Ashley R. Wilkins, Paula J. Willard, Bradley Joe Williams, Hayden C. Williams, Kamaran M. Williams, Margaret Williams, Renitia M. Willis, Kameron K. Wilson, Olivia Rose Wilson, Patricia L. Wilson, Damali Wilson-Kindred, Courtney Renee Winn and Mitchell F. Woody.