TVCC awards 169 degrees during summer graduation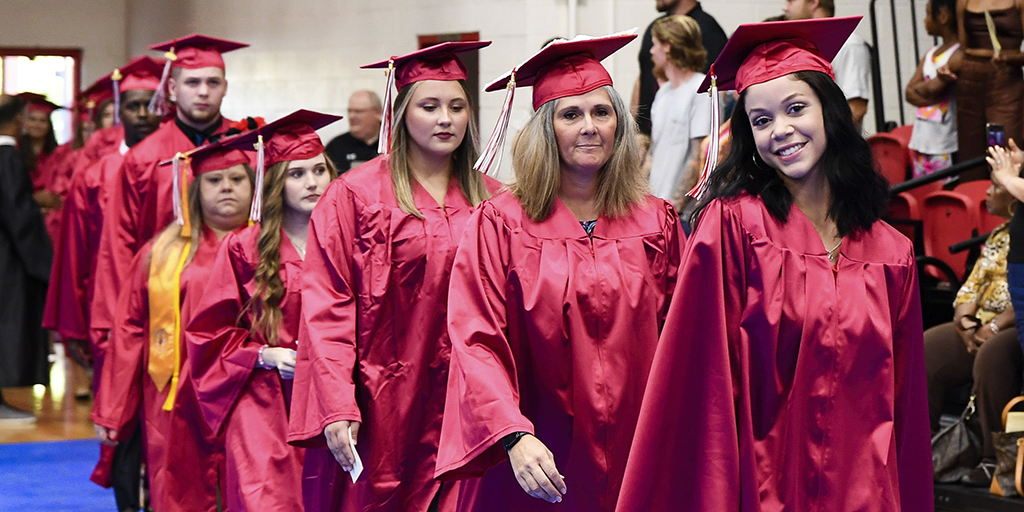 Trinity Valley Community College held summer graduation ceremonies at Cardinal Gymnasium Friday, Aug. 12, conferring associate degrees or Certificates of Completion and GED's to 169 graduates.
Listed alphabetically, the summer 2022 graduating class is as follows. The two stars are for high honors and one star is graduating with honors.
Bachelor of Science in Nursing
Laura L Jacobs
Juliette Wright
Associate of Arts
Jon Winston Adams
Oluwaseun Elizabeth Agboola *
Aubrey Beth Alexander
Mikaila Rachelle Anderson
Sophia Anumbor
April Mashelle Babovec
Breanna R Barr
Berklee Isabel-Ann Bouchard
Mistey Lynn Brasher*
Michael C Brown
Tyler W Bryant
Freedom N Buchanan *
Dylan Keith Burns
Misty Jordan
Danielle A McCormick **
Alvino Carbajal III
Jocelyn Naomi Carrillo Zubia
Destiny B Carter
Angela Susan Cerda
Wendy Lupita Contreras
Brennan G Creal
Courtney Leigh Bolton
Charles Edward Daniels
Caitlin S Davis *
Logan K Dickerson
Jessica Michelle Ashford
Larissa Faith Edwards
Ruby Farmer
Kinsey Deann Feagins *
Amber J Fox *
Mikala T Fuller
Michael David Galicia
Sandra A Gonzalez *
Harley J Gunter
Katye J Hall
Laurie B Hamon **
Clay Harmon
Dabari D Hawkins
Megan M Hawthorne
Wendy Nicole Hennard *
Heather M Hernandez *
Kristin A Loyd
Morgan K Hill
Esteban Hipolito
Haidyn Grace Hokit **
Megan Hollingsworth **
Stephen Daniel Howard *
Samantha J Hurst
Abigail N Jackson *
Dominic J Jacquez
Melissa Ann James
Braydon Charels Jones
Darah L Jones
Ezra A King *
Alisa Volakkanna Kong
Ashley N Breadon *
Brianna Alysse Lansdale **
Kassandra Lopez-Cisneros *
Daann Carter-Lowe
Joanna Lozano Parrilla
Samantha Ann Marshall
Haley B Massey
Seth A Maxwell *
Eliza Mercado
Amalia Meza
Angelica R Miller
Celeste Miranda
Gobani Montano **
Nicholas Andrew Najera
Tommy Ngo
Brianna Katelyn Granado
Abimbola Bukola Opoola
Wyteshia L Pipkins
Litzy D Puebla Yanez
Esteban Ojeda Ramirez *
Jaycee Kristine Richardson
Avanti R Roberts
Paige Brooke Robinette
Galilea Rodriguez
Karmen A Ronnebaum **
Neyda Sanchez
David Santamaria
Kenbresia Samariyune Slay
Luz Edith Sosa Landin
Cara M Sparks *
Ashley Nicole Stroud
Alexander H Tanner
Joel Torres
Holly E Traylor
Mary Emma Walker *
Carolyn Cheyenne Whitaker
Dishon Anthony Williams-Daniels
Deanna Rose Youngblood
Jose Valentin Zapata Gómez
Hailey G Zinn
Associate of Applied Science
Gerinesha N Barker
Colton B Croft *
Bradley A Daniel
Jonathan Layton Debord *
Rosemary Alena Hanford Pate
Jessica Izaguirre
Chantility M Oneal
Kylie Jordan Starr
Marissa S Wynn
Certificate of Completion
Eden Elizabeth Antonisse
Brandi Nicole Arnold
Bradie M Bacon
Harley Kaye Bennett
Melissa D. Bettencourt
Brooke May Bonner
Esther Botello
Lydia L Bruce
Joshua T Bull
Courtnie Brooke Byford
Alexis Carr
Angel M Chewning
Triniti Lynn Corder
Meredith Taylor Davis
Ashley Danielle Eyer
Megan E Gandy
Harlie Burnett Garcia
Jayle Gates
Alyssa C Gheen
Angelina M Gonzalez
Xiomara J Henriquez
Abraham Cornejo Hernandez
Giselle Estefany Hernandez
Nichole A Herrington
Kylie K House
Jade A Hutto
Brenda Juarez
Shane O Kinson
Robyn J Lewis
Lynsey Gayle Linderman
Libby L Lindsey
Whitney A Lozano
Abigail Rachelle Martinez
John R McLeod
Coy Ryan McManus
Shatina M Page
Brittany Palmer
Lacey N Perry
Megan Renee Rains
Kylie M Raymond
Harlee Sky Rogers
Jhosselyn Romero
Brianna Michelle Ruiz
Alexandria L Rusky
Jennifer Kay Russell
Sierra B. Scroggins
Cynthia Cheyenne Sharkey
Gissel Sierra
Teresa J. Smith
Jaden Brett Starr
Ashlynn R Stewart
Sarah Reese Taylor
Brianne R. Thompson
Gabrielle Erin Toon
Barbara S Valencia-Howes
Jesus Damian Valenzuela
Adia Lauren Vigil-Yeager
Yanni Guadalupe Villanueva
Kalee Nicole Walker
Canyon Marie Waters
Heather E Wheeler
Rachel Young
Rachel L Zataratous
GED
Susan Ainsworth
RiAnn Booth
Abigail Moses
Selena Navarro
Jessica Preston
Amanda Robinson
Laura Ann White.