TVCC offering Court Reporting program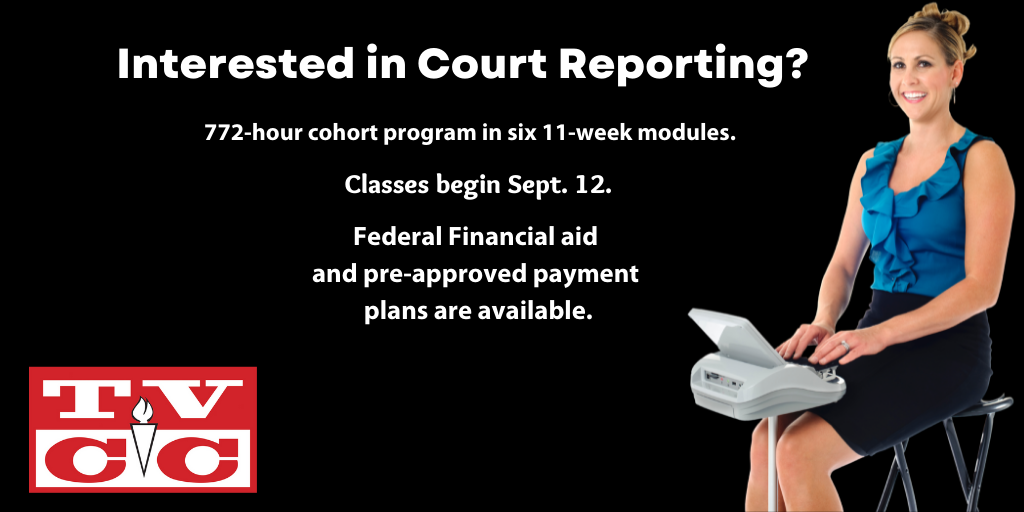 TVCC's partnership with the Texas Court Reporters Association (TCRA) and Mark Kislingbury offers an innovative court reporting experience for Texas residents.
Designed to provide basic knowledge in the accurate documentation and recording of proceedings of courts, legislative assemblies, committee meetings, live transcription and closed captioning, the 772-hour program will prepare students for a robust career with great earning potential, job options and flexibility.
Students enrolled in the cohort program will complete six 11-week modules utilizing Kislingbury's theory and curriculum.
Students can expect to learn about theory, speed building, computer-aided transcription (CAT) software, medical terminology and English vocabulary and punctuation during the program.
The tuition cost for six 11-week modules, which begins Sept. 12 is $11,400 ($1900 per module) plus the TVCC internet fee, books, software and machine.
Federal financial aid and pre-approved payment plans are available for the court reporting program.
Registration for the program is open now.
For more information, contact TVCC Adult and Continuing Education at conted@tvcc.edu or call 903-675-6212 during business hours for student advisement and registration assistance.