Video Conference Connectivity to Remote Sites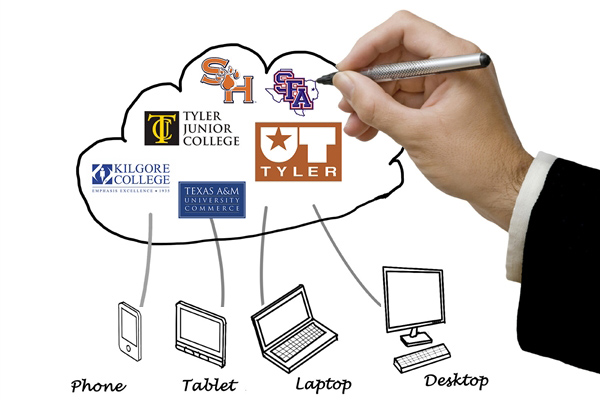 TVCC owns and operates 10 videoconference rooms. In addition to the ability to connect to one or more of TVCC videoconference rooms, TVCC, through its affiliation with NETNet, has connectivity to many other videoconference room locations. While it would be impossible to list all of the sites for which we can provide access, we have included a few below. Please keep in mind that this is an abbreviated list, it is by no means represents the complete list of sites to which TVCC can provide access.
IT Services can provide connectivity to any of the NETnet members including Angelina College, Kilgore College, Northeast Texas Community College, Panola College, Paris Junior College, Sam Houston State University, Stephen F. Austin State University, Texarkana College, Texas A&M–Commerce, Texas A&M– Texarkana, Texas State Technical College, Trinity Valley Community College, Tyler Junior College, The University of Texas at Tyler, and The University of Texas Health Center at Tyler.
SuperNET which includes school districts of Winnsboro, Van, Lindale, Hawkins, Big Sandy, White Oak, Hallsville, Union Grove, Chapel Hill, Winona, Tyler, Whitehouse, Arp, Carlisle, Henderson, New Summerfield and Jacksonville.
The East Texas Interactive Healthcare Network (ETIHN) which includes the following members: Memorial Medical Center in Lufkin, UT Health Center in Tyler, Titus Regional Medical Center in Mount Pleasant, Marshall Regional Medical Center, Christus St. Michael's Health System in Texarkana, Christus St. Joseph's Health System in Paris, Laird Memorial Hospital in Kilgore and Good Shepherd Regional Medical Center in Longview.
In addition, we have access to all the University of Texas and Texas A&M components in the state including Trans Texas Video Network (TTVN), and GSC Vidnet.
TVCC can access many of the region service centers including Region 7, Region 8, Region 10 and Region 11. We can connect to many school directs that are serviced by the above region service centers. Including
We have access to all TDCJ videoconference equipped units via the video network called TMAC.
We can access any site around the world that has IP access via H.323. Please note that the quality of this transmission cannot be guaranteed because it travels over the public internet.
If you do not see the remote location that you need to connect to, you should contact the IT Service Desk (help desk). Information Technology Services will make every effort to find a path for your conference.
If you have questions about videoconferencing or you would like to schedule a videoconference please contact Information Technology Services at helpdesk@tvcc.edu or 903-675-6300.