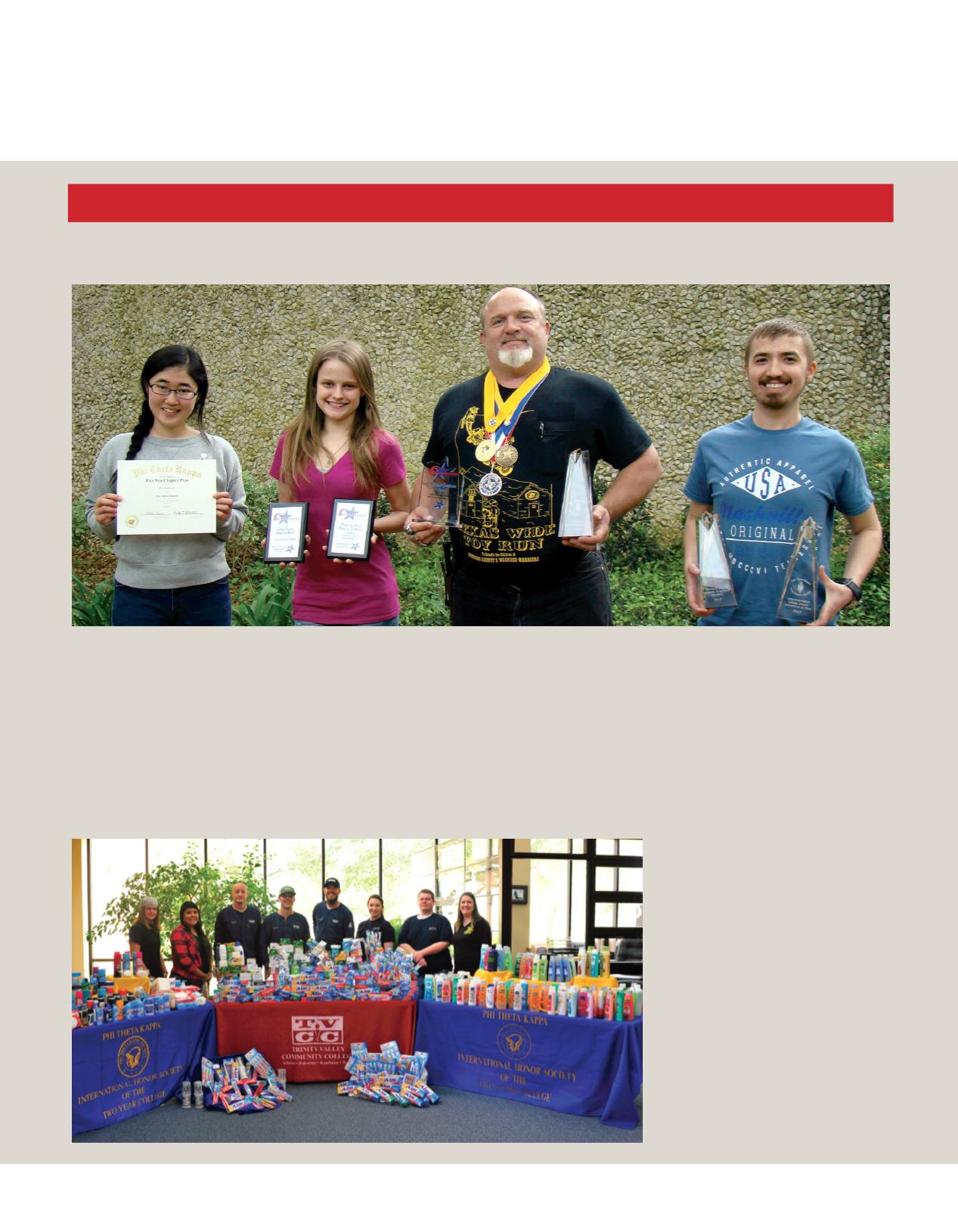 6
The Valley 2017
Phi Theta Kappa
Iota Alpha Earns Regional, National Honors
The Iota Alpha chapter of Phi Theta Kappa inducted 57 new members during the fall semester, and another 64 in the spring. They participated
in the annual Thanksgiving Food Drive; won a Continued Excellence Award, a Distinguished Theme Award – Honors in Action and a Five Star
Chapter Award at the Texas Regional Conference
Chapter President Scott Keon was named to the Texas Hall of Honor for Officers, and he and Chalisa Madsen won medallions for entries in the
rigorous All Texas Academic Team competition. Iota Alpha also won three major awards at the PTK International Convention in Nashville.
Iota Alpha Advisor, Nancy Long, was also recognized for being the longest serving advisor present. She is presently serving in her 44th year as a
Phi Theta Kappa Advisor, with 32 of those years as an advisor at TVCC.
Mayuko Shinohara, Cathlynn Edwards, Scott Keon and Niyaz Murtazin display awards from Nashville convention.
Phi Theta Kappa students on the Ter-
rell campus collected more than 2,500
personal care items for Trinity Valley
Electric Cooperative employees to
Pictured are PTK members Elissa
Gandy, Peyton Gilreath, Chris Goolsby,
Elisabeth Herrera and advisor Amanda
Leyva with TVEC employees Joshua
Lathem, Zachary Pollett and Adam