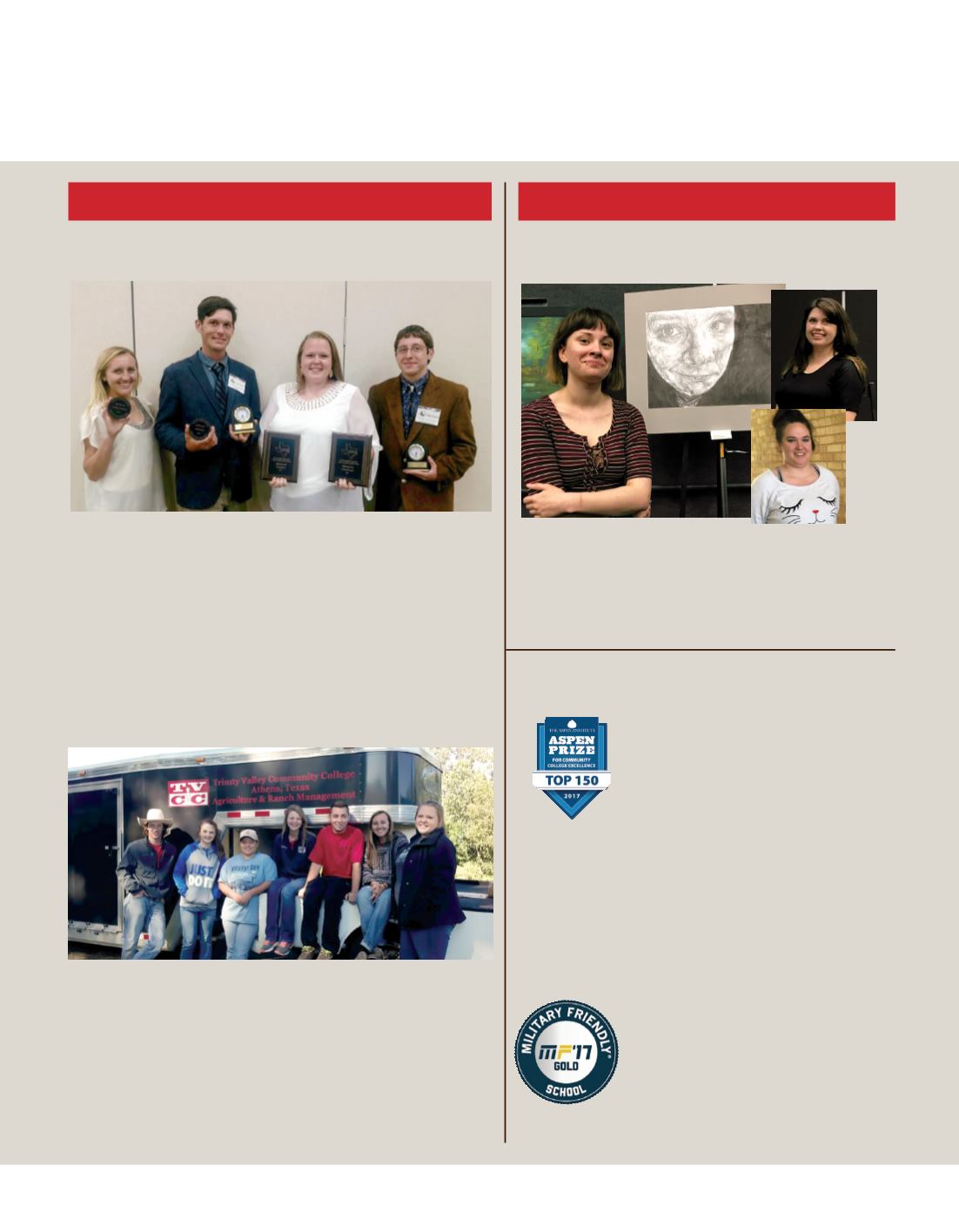 4
The Valley 2017
Ag Students Win at TJCAA Convention
Agriculture and Ranch Management students competed at the 2017
Texas Junior College Agriculture Association (TJCAA) Convention at
Sam Houston State University in Huntsville. Joshua Mills placed first in
Ag Economics and fourth in Agronomy, Jonathon Hairgrove placed first
in Entomology and TCJAA state officer Madison Carney placed third
in Animal Science. The TVCC Scrapbook prepared by Angelica Lippart
placed third in the Scrapbook competition, and when all of the awards
were tallied, TVCC placed third in the sweepstakes.
Show Team Wins at Regional Fairs
The Beef Cattle Show Team brought home several first place awards in the
Open Charolais Cattle division at the Four States Fair Livestock Show
in Texarkana, the Tulsa State Fair and brought home its 15th First Place
award in the Open Charolais Division at the Houston Livestock Show
The team was also recognized by the USDA's Natural Resources Con-
servation Service for their volunteer assistance with their annual plant
Three Win at Art Symposium
Three art students each won $1,000 scholarships at U.T. Tyler's
College Art Symposium and Juried Art Competition in March,
2017. The winners were Angie Weakley (top inset)– Watercolor,
Hannah Hagle (above left)– Graphite and Coty Sedlock (bot-
Agriculture
Art
TVCC Earns National Recognition
TVCC was once again recognized as one of
the top 150 community colleges in the nation
by the Aspen Institute, eligible to compete for
the 2017 Aspen Prize for Community College
Excellence and $1 million dollars in prize
funds, as well as Siemens Technical Scholars
Program student scholarships.
This year the college also received the second-
highest position among Texas community
colleges in a new list of the 100 Best Community Colleges in
the U.S. TVCC ranks sixteenth nationally in rankings published
by SmartAsset, a financial technology company that provides
advice on big personal financial decisions.
TVCC was once again named a Gold-level Military Friendly®
School Award recipient in the category of Community Colleges
for 2017 by Victory Media,
"The Military Friendly designation is
validation that TVCC provides our veteran
students with the services for admissions,
student support, and career services that
prepare them for graduation and ultimately
gainful employment," said TVCC President
Dr. Jerry King, "We are very proud of the
recognition and designation."