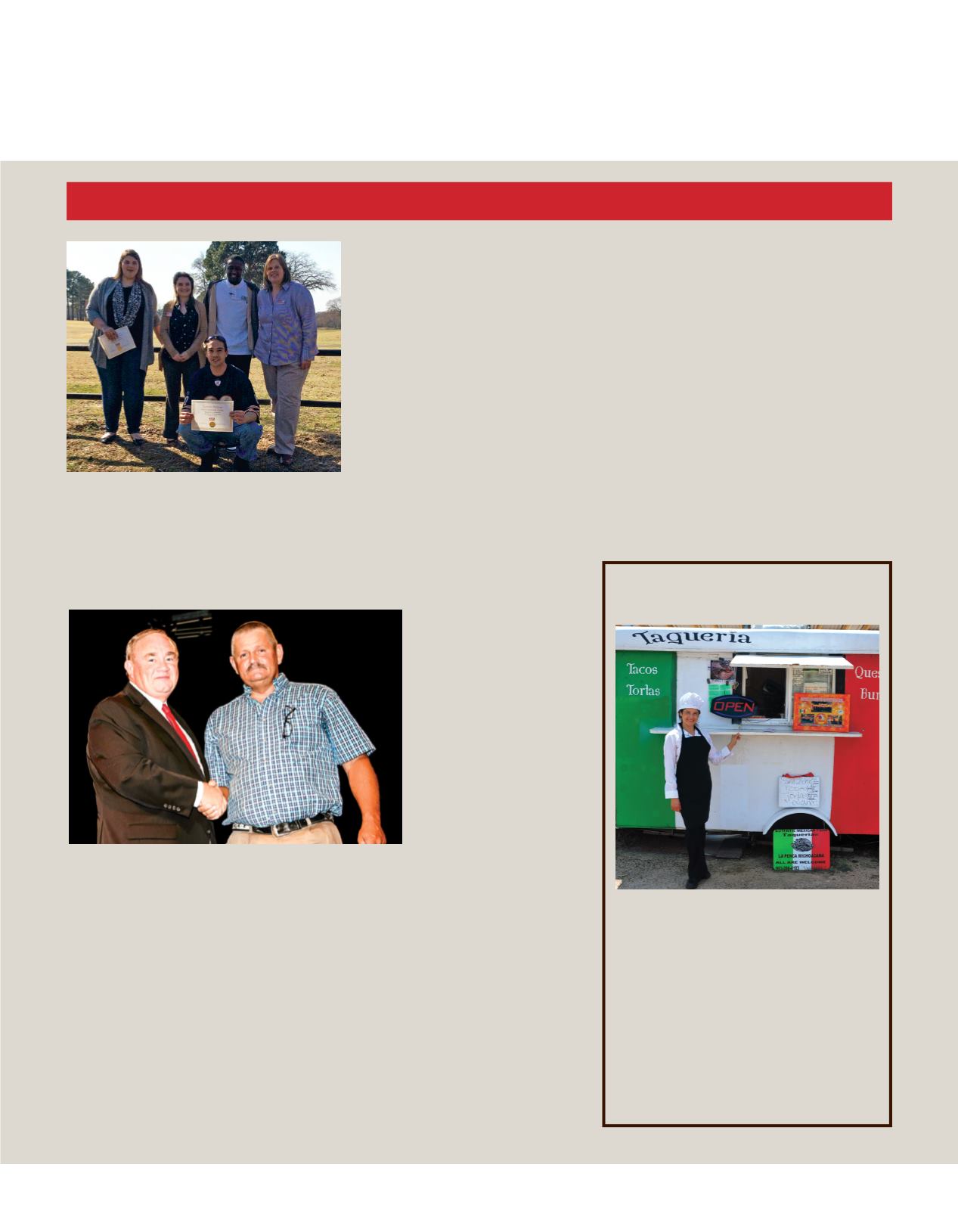 3
The Valley 2017
Adult Education
Dynamic Futures Readies Students for Success
Dynamic Futures, a cooperative program between TVCC Adult Education and Literacy
(AEL) and Workforce Solutions East Texas (WSET) encourages at-risk young adults to see a
brighter future. The program prepares students to acquire their GED or prepare for the TSI
(Texas Success Initiative) Assessment, which is required for all non-exempt students entering
"The outcome is a sense of accomplishment," said workforce case manager Kristopher Parkes.
"They see that this is a reality, that it can be possible for them to reach their goal."
"The coolest part of the program is watching the participants come in kind of introverted, shy,
timid, and to see them by the second week blossom and see who they truly are," said TVCC
AEL ProgramManager Whitney Hughes.
Chris Hicks, TVCC director of Adult Education, said, "As a result of the wonderful working
relationship with our workforce partners, students benefit from a comprehensive workforce/
The first Dynamic Futures class displays
For Marcelina Perez, it was a matter of doing
business. She barely spoke a word of English,
but her dream was to open a restaurant in
Athens like her brother owns in Mexico.
So Marcelina enrolled in ESL classes at Trinity
Valley Community College in 2014. She rode
her bicycle to work every day unless another
student offered her a ride and studied for her
food service license in ESL class. After being
certified in 2015, Marcelina now owns and
operates the La Penca Michoacana food truck
and uses the logo of her brother's restaurant.
GED Inspires Lifelong Learning, Creates Opportunity
Grady Pendleton didn't have
it too bad for a guy who never
Early on, he found work in
the oil field, worked his way
managerial job and made a
Then the oil field work dried
"When I quit school, I made
a promise to my dad that I
would get my GED," he said,
"and now I had the perfect
classes online with no success, he took a friend's advice and visited the Adult Education
department at Trinity Valley Community College.
Accustomed to hard work, Pendleton asked if he could attend two sessions a day to
complete his GED study as quickly as possible. He was the model student, attending every
class, and became a cheerleader and tutor for other students. One of his instructors asked
him to come back and help teach math.
"You've got to want it in your heart," he said of the work involved, "and I wanted to make
sure I graduated before my grandson did. He's 11." He passed the test and received his
GED at graduation in June. He now owns a truck and runs for-hire freight loads as his own
Grady says attaining his GED made him hungry for more, and that he would like to work
Associate Vice President of Workforce Education
David McAnally congratulates Grady Pendleton.