TVCC Hosts GED Graduation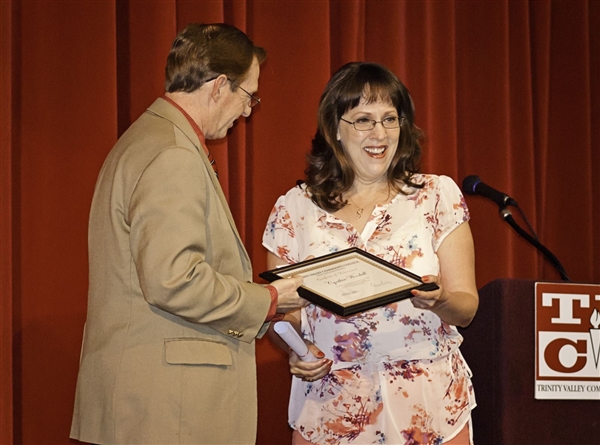 As the municipal judge for the city of Mabank, Groom often has to adjudicate cases for chronically truant high school students. In that role, she often sends students into GED programs as part of their legal process.
Last week on TVCC's Athens campus, she congratulated the more than 65 students who were graduating from the college's Adult Education Program. The adult education department oversees the college's GED preparation programs and the ESL programs.
Groom served as the guest speaker for the program's annual commencement ceremony.
During her speech, Groom lauded the graduates on their accomplishment. Getting a GED is a challenge no matter if a person is just out of high school or has been out of the educational system for years, she said. The class before her, she noted, ranged in age from 18 to 60.
"It is mind-boggling to me that you can do all it takes, because it isn't easy," said Groom. "Some of you have been out of school for a long time."
She said over the years, she has met people with great accomplishments who finished their high school requirements by earning a GED. She encouraged the graduates to keep going forward.
"This is just one milestone in your lives, but it is a huge milestone," said Groom. "I want to applaud you. I also want to encourage you to be happy with what you have accomplished, but always keep striving to learn."
During the commencement ceremony, Richard Lynd served as the student guest speaker.
"There are many reasons we stop our education," said Lynd.
He, for example, had some legal trouble as a teenager. He was forced to choose between the California Youth Authority and service in Vietnam, he said. After his return from his military service, he tried to complete his high school requirements, but life and work got in the way.
He was eventually inspired by his wife, Flora, who began taking ESL classes through the college.
"If you haven't finished high school, I want to encourage you to come here. This has been a wonderful experience," said Lynd.
During the ceremony, the college also recognized Margaret, Mitchelle and Michael Rodenbough, three siblings who were graduating together.
Also recognized was graduate Cynthia Woodall. She received the TVCC Presidential Scholarship for being the member of the class with the highest score on the GED test.
Adult education graduates for June 2012 were (listed in alphabetical order by hometown):
ATHENS:

Helois Cortez, Megan Defoe, Bobby Dora, Melissa Goss, Renate Greve, Richard Lynd, Janey Thomas


CANTON:

Robert Burleson, Chelsea Gordon


DALLAS:

Nathan Ducker


ELKHART:

Shannon Walston


ELMO:

Miguel Abdala


EUSTACE:

Kirby Bradshaw, Phyllis Burke, Charles Collard, Kimberley McLemore, Paul Mulhern, Kathryn Turner-White


GUN BARREL CITY:

Sarah Barber, Robin Bell, Carolyn Harrison, Sherry Goodson, Judith Jones, Kimberly Osteen


HAVELOCK, NC:

Kaylee Hogan


KAUFMAN:

Michael Galipp, Virginia Hopkins, Toni Leftwich


LARUE:

Kristina Jones


LUFKIN:

Juanita Shirey


MABANK:

Michael Brooks, Heather Cope, Roy Cox, Selina East, Sherry Lawrence, Dylan Longley, Heather Roden, William Scully Jr., Stacy Sprouse, Cynthia Woodall


MALAKOFF:

Serena Kile


MURCHISON:

Matthew Poe


PALESTINE:

Hans Diaz, Aubrey Hammon, Brittany Livingston, Shaterica Roundtree, John Tilmon, Hilda Velasquez, Lance White, Petra Zeigermann


TERRELL:

Theresa Evers, Hilaria Mendez, Jeremy Mewbourn, Margaret Rodenbough, Michael Rodenbough, Mitchelle Rodenbough, Bailey Spurlock, Minnie Ventura


SCURRY:

Dana Delgado, Meagan Mings, Brittany Surrat


TENNESSEE COLONY:

Otto Lemus


WILLS POINT:

Sandra Higgins, Jeremy Ivey, Jose Torres, Angelique Westfall, Richard Wrenn

For photos of the GED graduation, please visit our Facebook page at www.facebook.com/TrinityValleyCommunityCollege.