Family triumph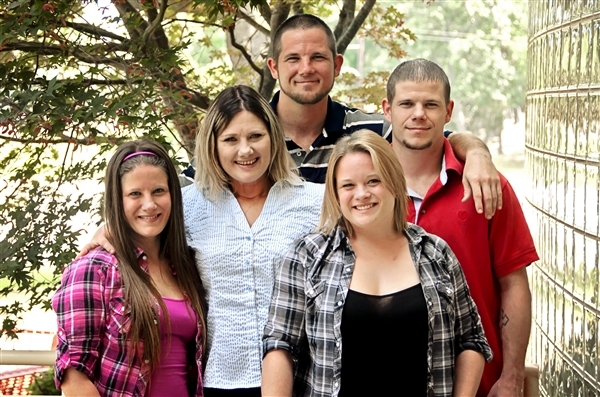 Family triumph
Mother, children conquer adversity to build new life
Sondra Rodenbough is brutally honest about the dark days in her past.
After a tough childhood in foster care, she began to sink into the world of drugs and alcohol. She spent several years lost in the fog, living in homes where methamphetamine was being manufactured, drinking herself into oblivion.
"I wouldn't think twice about spending our grocery money on drugs," said Sondra.
The series of her life's events seemed to pull the trap shut for her, she said. In 1990, she lost her mother and grandfather within a few days of each other. She married someone with similar issues. She lost a child to sudden infant death syndrome.
And she took her family down with her. In 1992, her four children were taken into foster care themselves. One girl, Michelle, was adopted and lost contact with the family, but the other three – Michael, Mitchelle and Margaret – stayed in the system, returning home once they aged out.
Those three children followed in their mother's footsteps to varying degrees.
Mitchelle stayed clear of the drug influence.
Michael didn't succumb completely to drugs, but said he didn't stay completely clean either.
"When I was doing I was trying to take away the pain…but it only made it worse," said Michael.
Margaret began using drugs at age 14.
"I was an addict by age 17," said Margaret, who is now 26. "I'll even show you my scars."
However, in one way all of the Rodenbough children took after their mother. None of them finished high school.
Sondra and Margaret left school in their eighth grade years. Michael quit high school, but tried to return. However, he was unable to complete his requirements by age 21 and so could not finish his basic education. That failure to complete, said Michael, sent him into a "downward spiral." He is now 29.
Mitchelle, now 27, left school his sophomore year.
"I just got tired, bored and didn't like it. I got a job and decided to quit," he said.
But a few years ago life began to change for the Rodenbough family. Sondra was arrested for drug use and placed into court-mandated rehab. It wasn't her first round in rehab. But this time, she said, she was ready to make a change.
"I finally got real with myself and decided to change instead of just lashing out at God," said Sondra, who now lives in the Terrell area.
In addition to conquering her long-term addiction, she began taking classes with the Trinity Valley Community College Adult Education Program. The program helps students gain the skills and knowledge they need to pass the GED test and earn a high school diploma.
Last June, at age 46, she walked the stage during the program's annual graduation ceremony.
This June, when the graduates receive their diplomas and celebrate their accomplishments, there will be three more Rodenboughs on the same stage.
After seeing their mother earn her diploma and begin a strong career as a certified nurse aide, the Rodenbough children said they were inspired to change their own lives.
"I guess I followed my mom when it was negative and when it was positive," said Margaret with a smile. "I decided if my mom could do it, I could do it."
"Our mom is our inspiration," said Michael. "We were told our whole lives we wouldn't be anything."
Michael, Mitchelle and Margaret all enrolled in TVCC's adult education program during the fall of 2011. Late last year, they all took the GED test the same day. And they all passed.
Cheered on by their mother, the three siblings will all be walking the graduation stage in two weeks during the college's annual GED graduation ceremony. The ceremony is set for 6:30 p.m. May 31 in the college's auditorium.
Part of their success, the family says, is because of the support they received from the staff at the college.
"We just needed someone to give us a chance," said Mitchelle.
Director of TVCC Adult Education Dr. Bill Carmines said stories such as that of the Rodenbough family are why he and his staff enjoy what they do.
"This family's story is one of the most touching I have heard. I am in awe of this family and the way their lives have changed," said Carmines.
Knowing those who work in the GED program can make such a difference in a family is inspiring, he said. In this case, he noted, the efforts of TVCC adult education instructors Bob Winchester – who was responsible for bringing the family through orientation and helping them learn study skills – and Cindy Hewlett – the classroom teacher that helped the family members reach their goal of graduating – are to be commended.
Going through the GED program takes a real commitment, said Carmines. Although there is no cost for the program (students must meet eligibility guidelines), students are required to attend orientation and classes. In addition to learning the material needed to pass the GED exam, students also learn study and general work skills.
"The cost for our students is only their time and a promise of commitment to the program," said Carmines.
Sondra says seeing her children come into the GED program and turn their lives around has been far more rewarding than the changes she has made to her own.
"I don't regret my life," she said. "But I knew I molded my kids the wrong way and I didn't want that to be my legacy to them. Now they've seen me walk (the graduation stage), pay bills, have a job and be stable. That is what I want my legacy to be, that I lifted them up instead of dragging them down."
That's exactly what she's done, say her offspring.
"I used to have dreams that I'd find my mom dead in a drug house," said Michael. "I don't have those dreams anymore."
Now, say the Rodenboughs, they have goals for their lives. Sondra is working in health care and would someday like to mentor to children who are taking the same path she took as a child.
"I want to tell them that life is all consuming and it kills your spirit," she said.
Margaret wants to be a dental hygienist or a licensed drug counselor. Mitchell is working full-time and Michael is looking at going into computer graphics or business management.
Sondra said bringing her life back in line has also brought her family back together. In recent months, the Rodenboughs have regained contact with the lost daughter, Michelle, who is Margaret's twin. She too did not complete high school, and since rediscovering her family she has enrolled in the TVCC adult education program.
The family says they now have a strong faith that binds them together. They all live close to each other in the Terrell area, which offers plenty of support.
"God has just protected us as we've made our change," said Sondra. "The kind of life we had just takes what it wants and we thank God it didn't take our lives."
GED classes are taught at several locations throughout the TVCC service area and online. For more information on the TVCC Adult Education Program, email adulted@tvcc.edu or log onto www.tvcc.edu.